Say baa to the cold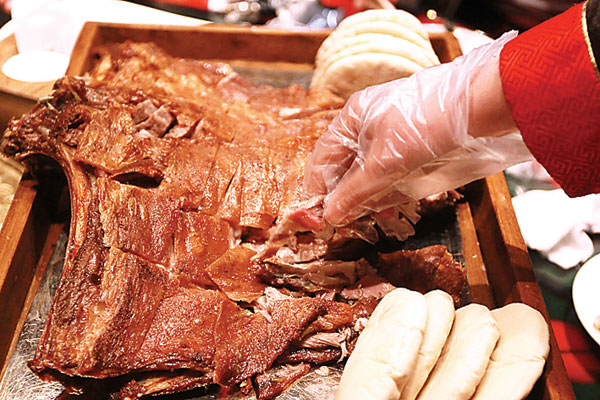 The restaurant provides plastic gloves for the convenience of customers, as it can get messy enjoying your food so much. Cui Meng / China Daily
The owners of Ninety-Nine Yurts work hard to provide a genuine Inner Mongolian life style to Beijing and their lamb from Inner Mongolia is among the best in the city.
The restaurant actually does feature yurts and the warmth of them is surprising, as they are purchased from Mongolian and Kazakhstan ethnic groups. Many of them have the owners' pictures and original decorative items on the walls.
Huo Xueling, general manager of the restaurant, says while lamb is available all year round, goat meat is best in winter.
"They are fattest now. After a month they lose weight," he says.
Huo sources goats from the remote mountains of the Urad Middle Banner grassland in Inner Mongolia, which provides high-quality wild grass.
"Lamb is suitable for roasting and boiling, while goats are suitable for boiling," he adds.
The goats are from 2 to 3 years old and the only drawback as far as I'm concerned is they can be a bit fibrous and stick in the teeth.
Apart from boiled goat, the restaurant makes a grand whole roast lamb. Garlic slices are served to palliate the greasiness, and plastic gloves are provided for the convenience of customers - so you can get your hands dirty!
The restaurant's lamb roast is prepared in a room with glass windows, so you can see everything. In the evening there are singers from Inner Mongolia who toast the guests.
The restaurant also offers camel meat from Alxa League, where each year 2,000 camels are processed for food. Stewed mushrooms with cabbage, roast lamb rice with cumin, bread and yogurt are all good choices.
A pot of boiled goat is enough for six people and costs 1,299 yuan ($210).
There are a la carte choices for individuals or small groups, but there are no small portions of boiled goat. Average cost for individual customers is from 100-150 yuan per head.