HK's favorite dining room
Two recommended dishes of the Dining Room are wok-fried shrimp with longjing tea and crispy rice dumplings. Photos Provided to China Daily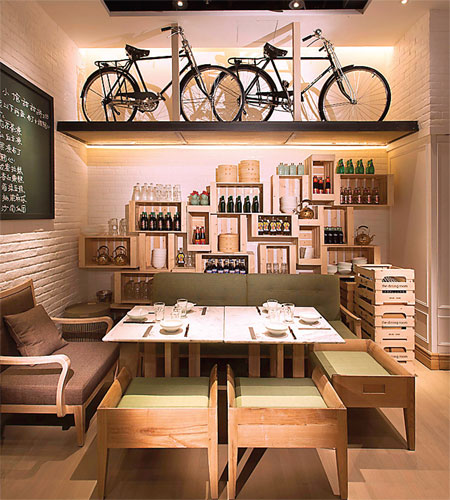 Bicycles, made in Shanghai, are fun props at the restaurant.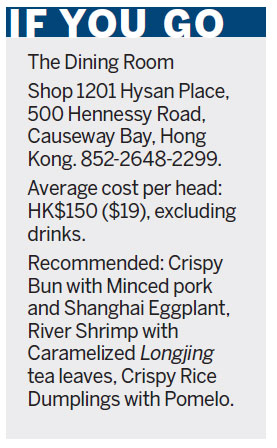 Shanghai restaurants are almost as ubiquitous as Cantonese ones in Hong Kong and with good reason, too. Its hearty combination of simple ingredients never fails to satisfy and is particularly enticing during these chilly winter days.
The only complaints, if we are picky, are that the same dishes keep reappearing. And, as in many local eateries, the more deliciously authentic the cuisine, the more the setting is bound to be a hole in the wall.
The Dining Room aims to change the bad rap that Shanghai food sometimes receives with a fresh take on both decor and menu. Situated in the brand spanking new Hysan Place, it is an airy 146-seat casual and contemporary venue that resembles a French bistro.
The entrance is decked out like a gourmet grocery store, with fresh fruit and vegetables spilling out from wooden crates. This is the theme throughout the restaurant, which extends the texture of the boxes into hardwood flooring and furniture.
Wrapping around a semi-open dim sum and cold prep kitchen, the dining area is infused with natural light from floor to ceiling windows.
Open shelves stocked with products used for menu items give the restaurant a neighborhood store ambience. A dado height brass rail with sheer drapes below add to the bistro feel, along with bric-a-brac, such as brass tea kettles and a wrought iron coat rack topped by a clock and weather vane.
Classic Phoenix bicycles manufactured in Shanghai are fun props, and I loved that there is a range of seating: counter-height tables with bar stools, communal wooden benches, sofas with low tables and white marble tables with cafe chairs.
The menu reflects the breeziness of the decor, with a number of new items created by executive chef Tony Huang. An alumnus of Shanghai New Asia Catering School, he is a specialist in dim sum and a former protege of Ge Xian'e - considered one of China's best dim sum masters.
Our first taste of dim sum began with the soft and crispy bun with minced pork, bamboo shoots and Shanghai eggplant. I was very pleasantly surprised by the succulent eggplant, which was an excellent combination of sweet and savory. Served in a paper pocket, the flaky, very crunchy bun was a perfect envelope for its stuffing.
Next came a cold appetizer of candied whole mini pumpkin with lily bulbs. It was beautifully presented, with a gentle lily bulb taste that lingered on the palette and was just sweet enough to be refreshing.
My favorite was tofu with hairy crab cream. It was so silky and rich, I practically licked the plate clean. And it was a great way to enjoy hairy crab without doing any of the messy work.
Rice in soup with seafood in Shanghai style was a good choice for those who can't decide between soup and more substantial fare. Each kernel was left whole, and the broth's aromatic chicken flavor enhanced the generous assortment of shrimp, clams and squid.
Wok-fried shrimp with caramelized longjing tea leaves was equally delicious. The crisp leaves reminded me of deep-fried basil - only more fragrant, if that is possible. And the river shrimp was super fresh and lightly sauteed to retain its firmness.
Huang's dim sum dexterity did not disappoint when it came to dessert, either.
I adored his crispy rice dumplings with pomelo, which was dusted with white sesame seeds and a melt-in-the-mouth filling of sweet pomelo. Artfully presented in mason jars, chilled puddings were available in jasmine, almond milk and mango, with the last being my personal pick to end things on a high note.
sundayed@chinadaily.com.cn