Chinese chefs get a taste of Australian beef and lamb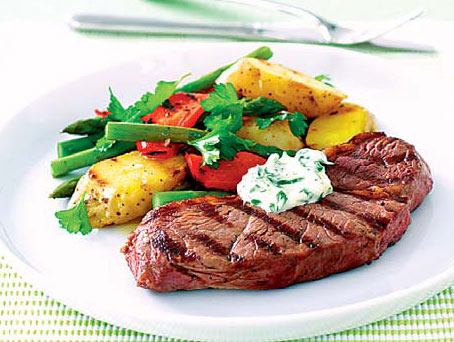 Australian meat has distinct flavors and richer texture. Photos provided to China Daily
There were lion dancers, diplomats and a parade of 14 prominent Beijing chefs, toqued and jacketed for the formal occasion. But the eyes of the 200-plus guests at the gala dinner for the Red Majesty Chef program rarely strayed from their plates.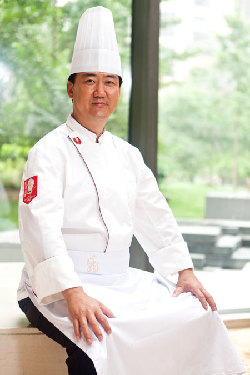 Xu Long, head chef of Western cuisine at Beijing's Great Hall of the People.
From crispy-fried beef parcels to Chinese lamb kofta with a pepper-honey glaze, a stream of 12 dishes the chefs created kept the crowd hungry for more.
The goal of the year-long program of Meat & Livestock Australia is to promote a culinary exchange and bring beef and lamb from Down Under into Chinese cuisine - while taking high-end Chinese cuisine to the outside world.
"There will be more training and recipe development," says the meat association's Tang Xuehong. "It is a continuous program and will become a platform for Chinese chefs to exchange ideas, explore and experience Australian beef and lamb.
"MLA will also expand the program into other cities, so RMC chefs will lead the trend of using Australian red meat in Chinese cuisine."
Tang says that in 2011, Australia exported 7,754 tons of beef to China and 21,234 tons of lamb.
"As Chinese consumers are very conscious about their health and food safety," she adds, "we expect the numbers to increase as consumers' disposable income increases."
Xu Long, head chef of Western cuisine at Beijing's Great Hall of the People.
Related: Biangbiang Shaanxi street food
The RMC program was first launched in Malaysia, and Lim Beng Poh - executive chef at the Kuala Lumpur Convention Center, known as "Chef Richmond" - is the veteran who led the latest round of training for the Chinese chefs in Beijing and in Kuala Lumpur. The group will be visiting Australia soon, he expects.
"Not all Chinese chefs in general are familiar with Australian meat, especially the butchery skills needed and the use of non-loin cuts," he says, adding that they are also studying the stringent food-safety measures established by the Australian government.
He says that religious practices traditionally kept many Chinese from eating beef, but modern chefs and diners are more open to it.
Wang Zhaozhi, head chef of Chinese cuisine at Beijing's Diaoyutai State Guesthouse, says it was "refreshing to observe the chefs from Malaysia make delicious beef and lamb dishes without food additives."
Equally important, he says, is gaining knowledge of butchering techniques. "It helps you use every bit of the meat in the right place," he says.
Zhang Peng, deputy chef at Hilton Beijing and the host chef for the gala dinner, says one difference between Chinese and Australian meat is that the latter has more distinct flavors and richer textures.
"The secret to keep the authentic taste of the meat," he says, "is to differentiate one part from another and cook them accordingly."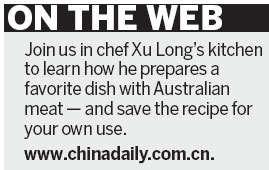 That can mean new options for familiar cuts of meat.
"Take the lamb chump for example," Zhang says. "Australian chefs simmer it with curries until the meat reaches a perfect doneness and absorbs all the curry flavors. But in China, we often stir fry this part with gingers or marinate it in sauces before roasting it."
"Chinese people have different eating habits from foreigners. So do the cattle. You cannot say this is good and that is bad. They are just different," he says.
But he has been impressed by the cooking methods for "Oz meat," which he says are more varied than those for Chinese meat.
"Sometimes a cheaper part, if cut in the right way, can taste like a more expensive one," Zhang adds.
"The cutting knowledge is very important," says Xu Long, head chef of Western cuisine at Beijing's Great Hall of the People. "And only if you do the cutting yourself can you understand the reasons why they cut the meat in this way."
Xu says more regulations are needed for the livestock industry in China, "and of course, we also need some good pastures. We may not develop the same pastures as those in Australia. They are kind of a natural gift. But we certainly can improve what we have right now."
As the 14 chefs in the program perfect their recipes with these meats, the dishes will start appearing on their own restaurant menus.
"Not only do we want to introduce Oz meat to the chefs but also to the public," says the MLA's Tang Xuehong, China manager of Meat and Livestock. "In fact, supermarkets such as Jingkelong and Ito-Yokado have already been selling Oz meat."
Contact the writers at michaelpeters@chinadaily.com.cn and fanzhen@chinadaily.com.cn.