Lamb, beef keys to old cuisine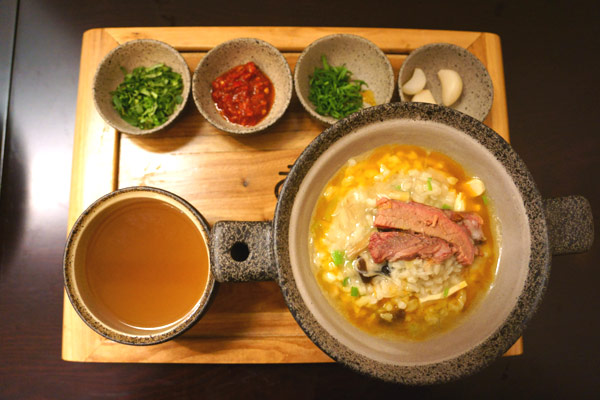 Lamb, beef keys to old cuisine
Terracotta Warriors, an ancient city wall and pagodas are not the only attractions of this ancient city. Thirteen Chinese dynasties set up their capitals in Shaanxi over a span of more than 1,000 years. Xi'an, the province's capital city, has a 2,000-year-old cuisine, older than all other major Chinese cuisines combined.
Yangrou paomo (pictured), pita bread soaked in lamb soup, provides a chance to play with your food. Enjoying this dish requires you to rip apart two hard pitas made with unfermented flour, which the cook then boils in a massive wok of seething lamb soup. The broth is so hot that the bread is ready in just a few seconds. It's served in a bowl of soup, topped with lamb slices.
Qishan-style cold noodles is an amazing appetizer. Often served as a street-side food, it is made either with rice or flour. The slippery noodles are mixed with green bean sprouts and gluten, and feature a mix of sour and spicy tastes, typical of the cuisine.
Also try huluji (gourd chicken), which is boiled and deep-fried until tender. The secret: the chicken is a free-range chick that weighs around 750 grams. It is available at Xi'an Fanzhuang restaurant.
Visit the Muslim food street on Xidajie, north of the Drum Tower, and you will find an array of typical traditional snacks. Jiasan's guantang baozi (soup buns) and persimmon cakes are just two examples. Muslim restaurants here are famous for great-tasting beef and lamb.
If You Go
Xi'an Fanzhuang Dongdajie Branch
298 Dongdajie, Beilin district, Xi'an.
Tel: 029-8768-0883
Muslim food street
Beiyuanmen, Huimin Jie, Xiyangshi, Beilin district, Xi'an