Little lamb, what made thee?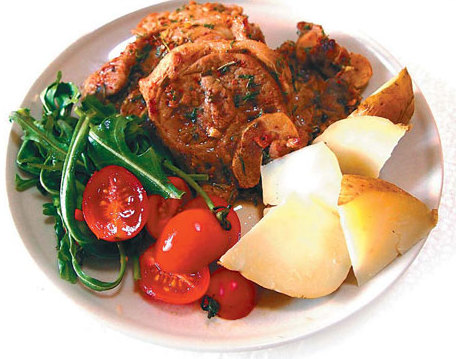 Don't make friends with your food. But who can resist these lambs when they are so delicious? Pauline D. Loh travels north to the foothills of Inner Mongolia.
The pungency of mutton leaves me cold, and congealed fat on the plate send even more chills down the spine. But a few weeks ago, I met some lambs even I could not resist.
These are Inner Mongolian animals that grew up in the pristine environment of the Great Green Mountain Range or Daqing Shan, about 70 km north of Hohhot where they don't know what PM 2.5 means.
They drink spring water that surges out from a water table just 2 km below the surface of the land, and they forage on wild mountain herbs, berries and a special fodder that took 20 years to perfect. They are also certified fully organic, currently by local authorities, but soon to be validated by the European Union.
What makes them special? The farm owner explained that it is the most basic reason: You are what you eat.
Li Xiaoping and his wife, Wei Cong are products of the "educated youth" generation, when they had to give up an urban education and learn from "farmers, factory workers and frontier soldiers". Both are ethnic Mongolians, and they decided to stay on the land even after the 10-year movement was long over.
They first started rearing poultry and later experimented with lambs, cattle and pigs. With their combined experience, they slowly perfected an organic fodder that draws from the best plants available from the land. Hence, Inner Mongolian chives and onions that grow wild on pastureland became part of the formula. They also added bright yellow sea buckthorn berries, currently the subject of much research for their high nutritional content.
Sea buckthorn berries are already made into a popular drink in the northeastern part of China, and I had tasted my first buckthorn berry juice when I visited Pingyao, in Shanxi province.
Research had proved that their vitamin C content is about four times that of kiwifruit by weight.
The best test of any meat is when it's simply cooked, with minimum seasoning. The organic lamb from Inner Mongolia autonomous region passed the test with flying colors.
My husband had often described his favorite dish when he was sent to Inner Mongolia - boiled lamb flavored with nothing but desert onions they harvested from the fields.
I have always been skeptical, remembering the pungency of mutton from my own experience. Now I am convinced, because with just a few slices of ginger and a stalk of Shandong green onion, I managed to produce a most delicious dish.
Go get your Inner Mongolian lamb and try it for yourself.
Organic Inner Mongolian lamb is available in most quality butchers, but should you have difficulty locating them, drop me an email at paulined@chinadaily.com.cn and I'll point you in the right direction.