Exhibition focuses on work of noted army photographer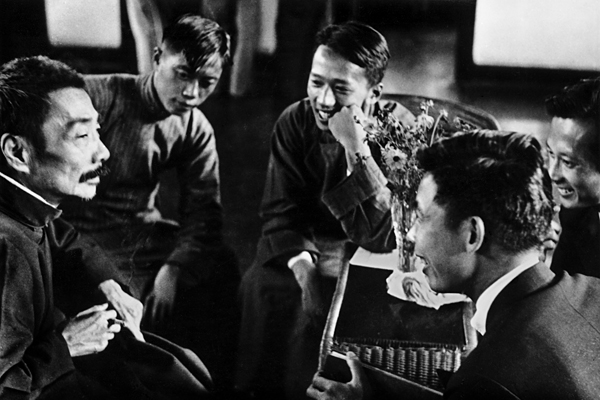 Chinese writer Lu Xun (foreground left) is one of the iconic figures in Sha Fei's photographs. [Photo provided to China Daily]
The display includes his early works before Sha joined the Eight Route Army.
Sha, whose birth name was Situ Chuan, was from Guangdong province. He changed his name to Sha Fei ("flying sand") saying that he wanted to be like a grain of sand and freely fly in the sky of his homeland.
He started as a telegraph operator and later developed an interest in photography.
As a photographer, he not only focused on scenery, but also, he zoomed in on those who struggled at the bottom of society such as rural women, children and adults in destitution, and rickshaw pullers.
He held his first solo show in Guangzhou in 1936. In the preface for the show, he said: "The undertaking of art is to help people understand themselves, transform society and regain freedom."
He said that photographers should not separate themselves from society, but instead they should reach out to people from different walks of life.
The late Li Hua, a friend and lithography artist, once said that Sha's works capture vividly the coexistence of people's desires and psychological battles, and each photo is "like a painting that shows the vicissitudes of one's life and makes people reflect".