Award honors promising artists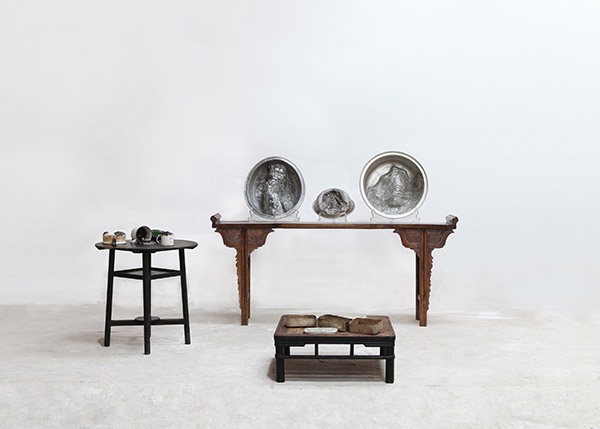 Works by nominated artists for this year's Wang Shikuo Award are now on display in Beijing.[Photo provided to China Daily]
"They explore a distinct style or medium that's not quite mature at the moment, but they believe will bring major breakthroughs. We don't watch artists whose works are market-oriented because they already had a lot of market support."
The award also honors artists of all mediums, even though it takes its name from a painter.
The ongoing exhibition of nominees' works displays multimedia installations and abstract ink-brush paintings on paper.
Hangzhou-based China Academy of Art instructor Ying Xinxun is presenting her light installation, Metamorphosis. The 36-year-old used translucent ox hide to create a creature that's half man and half insect that rides a motorcycle. She surrounded it with dozens of luminous fibers.
It looks beautiful at first sight. But viewers may feel as if they're trapped like a bird in a cage as they walk through the fibers.
Ying created the work to reflect on crises caused by rapid urbanization, such as air pollution and tainted foods.
"People are manufacturing all kinds of things that, in turn, transform them physically and mentally," she says.
Cong Ming, who lost his hearing at age 1, shows paintings inspired by classic Chinese philosophies including I Ching.
The 28-year-old from Liaoning province's Dalian, who has exhibited in China and overseas, uses circles and squares to reflect how people who speak different languages can harmoniously communicate.
The winner will receive 100,000 yuan ($14,700) or can hold a solo exhibition at the museum.
Huang Du, a Beijing-based art curator, critic and jury member, expresses hopes the jury will include international members in the future so winners can be introduced to a global audience.
Beijing native Tian Xiaolei won last year for producing animations of surrealist scenarios. The 35-year-old says the award has given him exposure abroad, including his Canada premiere titled Overload that's now running at Toronto's Katzman Contemporary gallery through Aug 5.
If you go
10 am-6 pm, closed on Mondays, through July 2. 32 Baiziwan Road, Chaoyang district, Beijing. 010-5876-0600.