Firing up porcelain's potential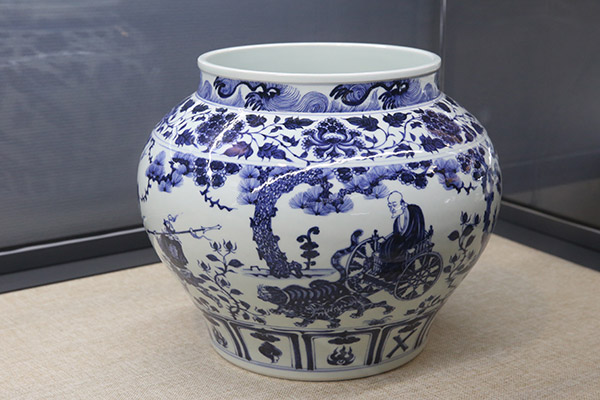 The show Treasures of a Nation offers a good review of Jingdezhen's porcelain-making history. Ceramists of different generations display their artworks.[Photo by Jiang Dong/China Daily]
An exhibition from the ancient 'kiln city' of Jingdezhen shows how ceramic traditions have persisted while new artists are endowing traditional craftsmanship with contemporary flourishes. Lin Qi reports.
The kilns in China's "porcelain capital", Jiangxi province's Jingdezhen, have been firing for nearly 2,000 years. Locals are continuing the sophisticated traditional craftsmanship in the area, while a new crop of creative types like Nie Lechun are incorporating porcelain into contemporary art.
The 80-year-old ceramist has spent nearly six decades developing new ways to sculpt porcelain flora and fauna.
He's especially known for rendering eagles. A recent work portrays one of the raptors spreading its wings as its talons clutch a tree trunk.
The piece is now showing at the Treasures of a Nation exhibition in Beijing, which reviews Jingdezhen's porcelain-making history.
Over 400 displays are exhibited at the culture and history museum of the Chinese People's Political Consultative Conference in Beijing. They include antique porcelain shards and reproductions of classic works that are now in museums and private collections around the world.
There are also daily-use items, such as teacups and plates, and decorative pieces like Nie's works that celebrate the craftsmanship of today's artisans.