Heritage preserved one stitch at a time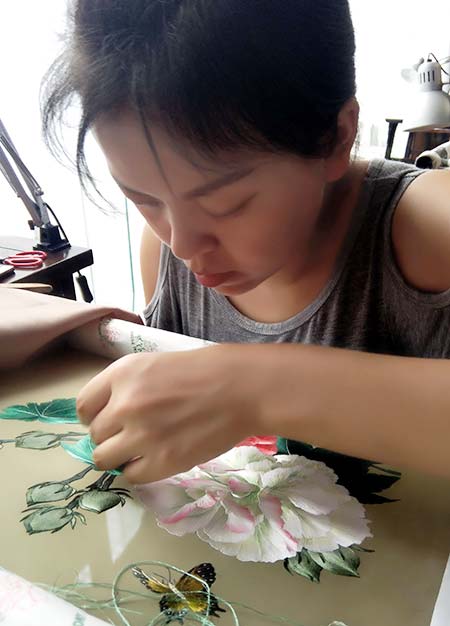 Peng Lin, a 29-year-old Sichuan-style embroidery artist, does needlework in Chengdu, Sichuan province, on Monday. Huang Zhiling / China Daily
Peng Lin was so preoccupied with her needlework that she ignored the visitors looking at her Sichuan-style embroidery.
"A buyer has ordered needlework, and I have to complete it on time. I started on May 20 and I'm expected to complete it before June 20," the 29-year-old said.
Peng was displaying her skills on Monday at the Chengdu Shu Brocade and Embroidery Museum, which was designated by the Ministry of Culture in 2011 as a guardian of intangible cultural heritage.
Peng's grandfather, Peng Yongxing, became China's first State-level master of Sichuan embroidery in 1988. When she was 7, she watched her grandfather work at home and showed a keen interest.
When she was 14, her father, Peng Shiping, a provincial-level master of Sichuan embroidery, began teaching her to embroider flowers, grass and birds.
She quit a better paying job as an English interpreter in a luxury hotel to start working at the museum in April last year.
Despite being pregnant, Peng spends about 30 minutes on the subway and walks about 20 minutes to the museum and home each day.
According to Xiang Zhaolun, vice-minister of culture, young people do not want to learn or inherit intangible cultural heritage because there are few buyers for their products and they cannot make ends meet.
But some young people like Peng have learned from family members and are pillars in their fields.
Women visitors were curious about the Miao-style brocade at the Chengdu International Intangible Cultural Heritage Park on Monday during the sixth International Festival of Intangible Cultural Heritage, which ends on Sunday.
The brocade was from Gan Xiaozhi, a 31-year-old from the Miao ethnic group in Guizhou province.
A native of Longhe village in Leishan county, Gan learned Miao-style brocade from her mother at 8. In 2014, Gan launched a company to teach brocade production techniques.
"Villagers make brocade in line with our standards and sell it to our company," she said.
Thanks to the company, some 150 households in the impoverished county earn an extra 3,000 yuan ($440) to 20,000 yuan per year, according to the county department of publicity.