Han Meilin's works show deep influence of cultural traditions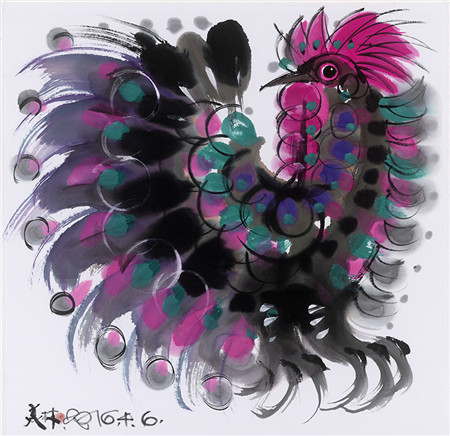 An ink painting of a rooster and a teapot are among the creations by Han Meilin on show at Beijing's National Museum of China. [Photo provided to China Daily]
Through his six-decade career, Han Meilin-who is well-known as the chief designer of Fuwa, the good-luck mascots for the Beijing Olympic Games in 2008-has always turned to Chinese cultural traditions for inspiration.
The 80-year-old began traveling to towns and remote villages in 1977 where he discovered folk arts, such as paper-cutting, clay sculpting, cotton-cloth printing and zisha (purple-clay) teapot making.
He was later joined by dozens of students and staffers and calls his team "a caravan of art". Over the years, they've journeyed to places across the country that boast rich grass-roots culture, such as his native Shandong province, the Ningxia Hui autonomous region in the northwest and the hinterland of Guizhou province in the southwest.
For his art, he uses decorative patterns and colors he has discovered on these trips. His creations comprise ink paintings, calligraphy, sculptures, postage stamps, ceramics and interior design.
His ongoing exhibition at Beijing's National Museum of China, World of Meilin, showcases his efforts in spreading the aesthetics of Chinese folk art.
The prolific artist has produced or designed many of the more than 100 works now on show over the past five years.
The ongoing exhibition is the second leg of a show that celebrates Han's birthday, which fell on Dec 26.