Wu Weishan titled honorary professor at prestigious art school in Russia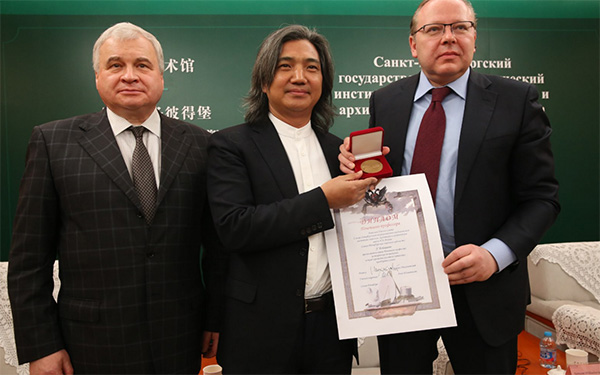 Wu Weishan (center) [Photo by Jiang Dong/China Daily]
Wu Weishan, director of National Art Museum of China, was titled an honorary professor at the prestigious I. Repin St. Petersburg State Academy Institute of Painting, Sculpture and Architecture by its rector Semen I. Mikhailovsky, on Tuesday in Beijing.
The school founded in the 18th century is one of Russia's oldest higher art institutions. It helped to cultivate many Chinese artists in the 1950s and is one of the favorite art schools abroad for Chinese students today.
At the awarding ceremony observed by Russian ambassador to China, Andrey Denisov, Wu and Mikhailovsky also signed a cooperation agreement on behalf of the two institutions, which in the future will bring more Chinese and Russian artworks to each countries.
Related:
The man covering Beijing in 100 dragons
Chinese art masterpieces at Christie's auction preview in HK