Caustic composer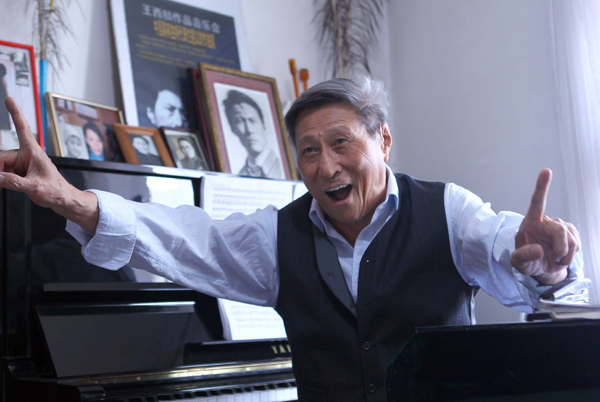 Wang Xilin, 76, interprets his music, which is rarely performed in the country because of its heavy and abstract sounds. Zou Hong / China Daily
His music appeals to only certain listeners because it is angry, sad and abstract. But Wang Xilin tells Chen Nan that he will not stop composing because he cannot stop the fire in his belly.
The award-winning composer Wang Xilin has written nearly 50 symphonic pieces in his four-decade-long career. But, the 76-year-old musician has never released an album and his works are rarely performed in the country.
His Symphony No 1 premiered in Beijing 37 years after it was created and his symphonic chorus Guoshang, or hymns on spirits of state warriors slain in war, has never been performed.
"For a composer, the best thing to happen is when his works are being performed in front of audience," says Xu. "I really feel depressed."
One of the reasons why Wang's works do not appeal to the audience is because they are heavy and abstract. His music represents the fury and the agony he endured during the "cultural revolution" (1966-76).
His use of Chinese folk music - such as qinqiang, the representative folk Chinese opera of the northwest province of Shaanxi, and Puju, a variety of Chinese opera from southern Shanxi - differentiate his compositions from traditional symphony music and thus, create a distance from the audience.
But, to Wang, those are the elements that make his music come alive.
"Chinese audiences are used to listening to happy, joyful sounds during happy occasions. But my works contain a deep sadness.
"The past century not only experienced happy events but also bad events. I am just reviewing the history through my musical language," says Wang, who requires a hearing aid. He lost 20 percent of his hearing because of hard labor during the "cultural revolution".
Due to his hearing problems, Wang talks loudly or shouts. He says he is also outspoken and critical, which offends people.
One of the consequences of his sharp views and heavy musical expression was the delay in the debut of his Symphony No 4. Wang wrote the work in 1999 but the work only premiered in 2006 in Beijing.
Beijing Symphony Orchestra, which Wang was attached to in 1999 and was supposed to hold a concert then to showcase Wang's new composition and his other works, cancelled the show because of a disagreement.
Related: Metro station music to Shanghai's ears