Crowd pleaser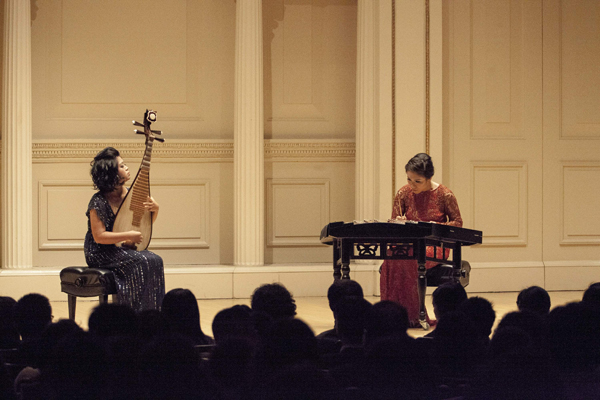 At her New York concert on May 7, Lu Jing (right) played the Chinese dulcimer with Zhou Yi, who played the pipa.
Yangqin player Lu Jing's recent concert at Carnegie Hall fulfills a dream for the young artist. Hu Haidan reports in New York.
When Lu Jing applied for a Columbia University graduate program in stage management in 2010, her friends feared she might give up the musical instrument she had been playing since age 4.
But the musician knew she wouldn't put down the yangqin, a Chinese hammered dulcimer. In fact, studying in New York turned out to be fortuitous for a musician with a dream of reaching people around the world.
On Tuesday night, Lu performed at Carnegie Hall in a program combining Eastern and Western classical music, such as The General's Orders, Monti's Csardas and Rimsky-Korsakov's Flight of the Bumblebee.
"I am so proud to say that I planned the dulcimer performance by myself. And I made it happen," Lu says, referring to the crowd-funding for her concert that she initiated.
It was the latest success for the 26-year-old, who at age 12 entered the Central Conservatory of Music in Beijing - China's top music academy.
She spent her teenage years competing at national and regional awards, and won silver prizes for performance of a traditional Chinese instrument (2008, 2009) and a gold prize for "traditional instrumental music of youth" (2004).
But Lu says her focus is wider than a quest for accolades. "I think one of the main reasons there are not many traditional Chinese instrument players on the world stage is that, because other than performing, we don't know much about marketing," she says. "I don't want to become a person who can only play an instrument."
After receiving her bachelor's degree in musical performing arts from the Beijing conservatory, Lu set her sights higher.
"I'm not the kind of person who can sit there and wait for chances to come. I decided to learn the things behind stage performance and hope this new knowledge will help me to create more chances for playing the yangqin internationally."