Metro station music to Shanghai's ears
People's Square attracts audiences that are both keen and curious.
It could be a jazz piano solo, a classical sonata or traditional Chinese bamboo flute music.
Whatever your taste, free concerts in the grand hall of People's Square metro station in Shanghai have been offering a diverse range of music since the start of the year.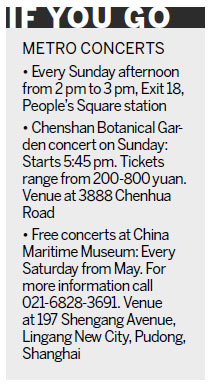 Set against a noisy backdrop, the concerts have attracted a curious crowd of commuters.
Bian Mengdan, a 21-year-old college student from Hangzhou, who has never paid to see a live performance, said, "It's the second time I have come across such a metro concert. It's really down-to-earth - it's more like a folksy version of classical music. For Chinese audiences, music, especially classical music, is sometimes inaccessible, but free metro concerts put it within everyone's reach."
Bian, who is staying in Shanghai, said she was attracted by a jazz version of the popular song You Exist in My Song the last time she stopped by. It was played by American pianist Robert Turner during his metro concert debut in January.
Turner, 37, who was invited to the city from Los Angeles by the Shanghai Symphony Orchestra two years ago, said: "They (audiences) prefer songs they know. I don't want to play a song they don't have a feeling for.
"I make the decision (of selecting songs) based on audiences. The reaction I get from them helps me decide."
Turner's play list ranges from Duke Ellington's Satin Doll and Oscar Peterson's Hymn to Freedom to a jazz version of Hey Jude and Shanghai favorite The Moon Speaks for My Heart.
Young classical pianist Ping Youzhi had a good time with her new audience at the metro station.
"Usually you would dress formally for a classical concert, but it's a completely difference experience playing a metro concert - some of the audience only stayed for one piece, while some just stopped by for a couple of seconds," she said.
Feng Hao, spokesman for Shanghai Shentong Metro Group, which operates the Shanghai Metro, said more than 20 concerts have been held in People's Square every Sunday afternoon for more than four months since the program started.
Some dedicated audience members travel from the other ends of the city to see their favorite artists - Cao Xinggui, 71, being one of them.
Cao, who used to play the traditional Chinese instrument pipa, came to hear erhu player Duan Aiai one Sunday afternoon in April.
The retired worker was sent by his district's community folk orchestra as an advance guard to "learn from the expert".
"They (the rest of my community folk orchestra) were to follow the next weekend," said Cao, who added that the format for free concerts at the metro station makes it possible for people like himself to meet the professionals.
Performances are not confined to the station. Audiences can take blankets and picnic boxes to concerts in the city's Chenshan Botanical Garden, where they can sit or lie on the lawn listening to classical music and watching the sunset.
The Prague Symphony Orchestra from the Czech Republic will play at the venue on Sunday.
The city's China Maritime Museum has also announced weekly Saturday concerts starting from May.
However, Wu Xinyi from the Shanghai Shentong Metro Group, who is in charge of the metro concerts, voiced concern about coping with overcrowding at public concert venues such as the station.
"We keep an eye on the control of passenger flow," said Wu, adding that his team is sticking to a few principles such as never inviting celebrities - as too many passersby would stop to see them - and not bringing the entire symphony orchestra to the station.