The signs are good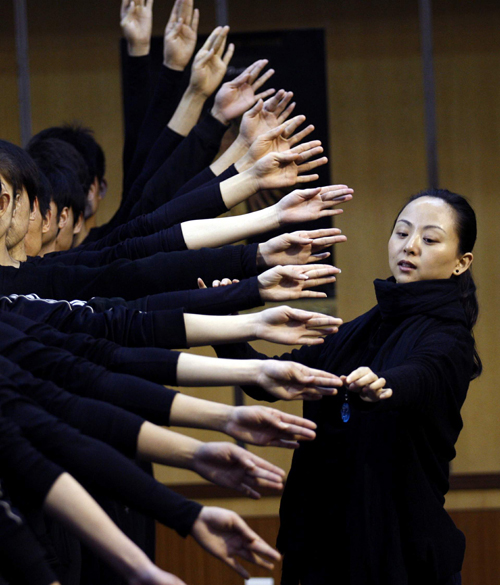 Tai Lihua directs China Disabled People's Performing Art Troupe in The Thousand-Handed Goddess of Mercy dance. Zhang Wei / China Daily
Tai Lihua lost her hearing at 2 but this hasn't stopped her from achieving her dreams. Mei Jia interviews the CPPCC member and director of the China Disabled People's Performing Art Troupe.
Despite her hearing impairment, dancer Tai Lihua found it easy to communicate when she attended a session of the country's top political advisory body in mid March.
In the group discussion with actor Jackie Chan, director Feng Xiaogang, and writer Mo Yan, Tai spoke using hand gestures translated by her assistant Li Ying.
"I felt comfortable, there were no obstacles (to communication) and I was also inspired by the other attendees," Tai gestures, with a smile.
The two-time member of the Chinese People's Political Consultative Conference National Committee proposed approving driving licenses for physically disadvantaged people during the two sessions of the National People's Congress and CPPCC in 2008, which came to fruition two years after.
This time her proposal centered on enriching the spiritual and cultural lives of people like her, including adding subtitles for TV news.
"In recent years, we are better off, get more respect from people, and a number of large infrastructure projects have made life more convenient," Tai says. "Now we need more food for the spirit."
According to Tai, there are 27.8 million people with impaired hearing among the 87 million people living with disabilities in the country. "Adding up the number of elderly who have to turn up the volume on their hearing aids, together with dialects, the need for subtitles on TV programs is substantial," she says.
Tai brought wonder to hundreds of millions when she was the face of The Thousand-handed Goddess of Mercy dance at the CCTV Spring Festival Gala in 2005. She has gone on to perform the dance in more than 70 countries.
Born in 1976, in Wuhan, Hubei province, Tai had a high fever and lost her hearing at the age of 2.
More on art