Gala role returns Zhao to the spotlight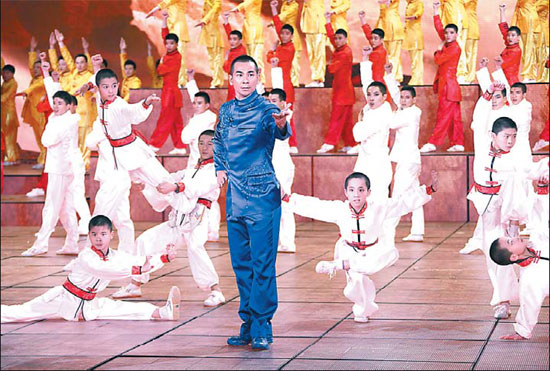 Zhao Wenzhuo performs during the Spring Festival gala presented by China Central Television. Provided to China Daily
Zhao Wenzhuo has starred in 17 films since 1992, the year he won the National Martial Arts Championship, the most prestigious contest of its kind in China.
The 41-year-old does not reprise the glory of his superstar predecessors, such as Jet Li who also rose from top martial-arts contests. But he is easy with the fact, citing the technique of balancing in tai chi as his own recipe to deal with anxiety and ambition.
His recent performance at the Spring Festival TV gala on the eve of the 2013 Lunar New Year, however, has brought the kung fu star to the public's attention again.
In the four-minute show, Zhao plays a teacher who coaches a group of young children to improve four martial arts techniques.
The show was voted by 1 million netizens as the third-best program on the gala in a poll by Tencent.com, for its "positive energy".
However, Zhao was initially hesitant to stage the show, although it would be part of the widely watched Spring Festival gala, which enjoys tens of millions of viewers.
"It is kind of taboo for martial artists to perform onstage," Zhao explains, "because viewers are distant, and cinematographers do not necessarily capture the best movements of a sequence."
The reason he decided to join anyway? The message that the show conveys.
"The performance revolves around a martial artist and his disciples, depicting how martial arts are inherited from one generation to the other. As a martial artist myself, I feel the message echoes my own sense of mission."
Zhao started learning martial arts when he was only 8, at first with a friend of his father who was also a martial arts practitioner in Harbin, capital of Heilongjiang province. He then entered the local martial arts academy, where he perfected various techniques.
After he enrolled in Beijing Sport University, he majored in martial arts education and garnered many awards in national contests. He never got a chance to practice his major, though. In 1992, the golden age of Hong Kong kung fu films, Zhao was chosen by director Corey Yuen to star in Fong Sai-yuk, a smash kung fu comedy, and his acting career took off.
Zhao says he's delighted to play a martial arts educator in the show, as that's "the profession I should have done but never did".
"The disciples' respect for the mentor and the mentor's devoted teaching, including kung fu skills and moral standards, have always been an important part of Chinese martial arts."
The most precious thing his masters have taught him, Zhao remarks, is not how to beat others but, rather, to challenge one's own limits.
"The essence of martial arts is not to fight with others and defeat them but, rather, to bring about one's biggest potential to achieve a better version of yourself," he says.
The show has also brought some personal rewards for Zhao, father of a 5-year-old girl and 1-year-old boy.
The moment he went back home after the live show, his daughter rushed to him and told him she wanted to resume her martial arts lessons. Zhao had sent her to some classes, including ballet, trampoline and martial arts, and the first class she quit was martial arts. But after seeing her father leading a group of young children in the sport on TV, she changed her mind.
"I do hope more children will develop love for traditional Chinese martial arts," he says.
After promoting kung fu by acting in films and on TV for two decades, Zhao says he has an ambitious plan to direct a martial arts film himself. It would be a story on the hidden masters in daily life.
"I don't worry about the inheritance of martial arts, which has so many fans in China and the world," he says. "The old saying in China goes: 'Real masters are beside you and me'. I believe that, and I have known some of them. Their stories will make a really interesting film that's attractive to both the young and old generations."
liuw@chinadaily.com.cn