China cultural center opens in Sofia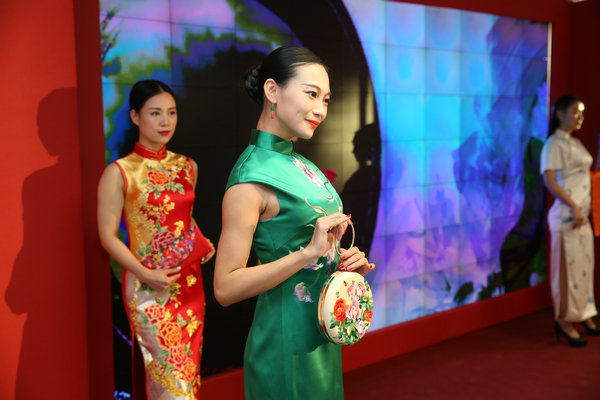 A cheongsam show at the the opening ceremony of the Sofia China Cultural Center, Nov 23, 2017. [Photo by Li Jieying/provided to Chinaculture.org]
Another China cultural center found a home in Sofia, Bulgaria. The opening ceremony of the Sofia China Cultural Center was held in the city on Nov 23.
Zhang Xu, deputy-minister of the Ministry of Culture of China, Zhang Haizhou, Chinese ambassador to Bulgaria, Boil Banov, cultural minister of Bulgaria, Yordanka Fandakova, mayor of Sofia, along with over 100 representatives from the two countries attended the ceremony.
The deputy-minister addressed the event. He said the establishment of the center shows the cultural communication and cooperation between China and Bulgaria has risen to a new level. The center gave a new start to the mutual relations in the cultural field.
Ambassador Zhang expressed Chinese government's determination to make the cultural center a platform that will bridge the two nations through cultural exchanges and communications. He said the center will deepen and vitalize the relations between the two countries.
Officials from Bulgaria said the cultural center could contribute to the friendship between China and Bulgaria.
Banov said enhancing the cultural communication and exchange is a common wish of the two nations. The establishment of the center is the fruit of the endeavors of the both countries.
As Sofia is the largest city and hometown of many of the major local universities, cultural institutions and commercial companies in Bulgaria, Fandakova said he hoped the cultural center would help more Bulgarian people better understand Chinese culture.
At the opening ceremony, artists from the Ningbo Arts Troupe featured a series of performances, including traditional Chinese music Jasmine, Shaoxing opera Butterfly Lovers and Bulgarian folk dances.
Chinese intangible cultural heritage inheritors also displayed paper cutting, Chinese calligraphy and Chinese ink painting during the event.
Before the opening ceremony, a dance drama Ten Miles Red Makeup (Shi Li Hong Zhuang) from the Zhejiang Song and Dance Theater was put on in Bulgaria on Nov 22. The performance attracted about 1,000 local people and officials from China and Bulgaria.
As the 34th overseas China Cultural Centers, the center in Sofia is the first one established in Central and Eastern European Countries. Ningbo in Zhejiang province participated in the establishment and will support the center's running.