American Melodies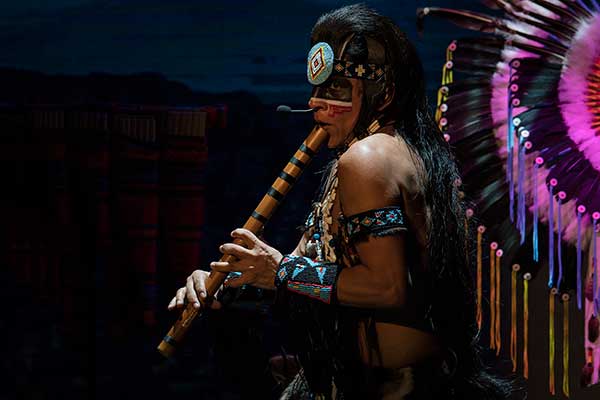 Alexandro Querevalu will tour China from Dec 10 to Jan 26. The musician usually does his own makeup for performances and tries to portray a traditional Native American look.[Photo provided to China Daily]
Indigenous musician Alexandro Querevalu is set to stage third China tour. Chen Nan reports.
The Last of the Mohicans - the soundtrack of the 1992 film by the same title, starring Daniel Day-Lewis - was composed by Trevor Jones and Randy Edelman.
The film is directed by Michael Mann and based on the 1826 novel by US writer James Fenimore Cooper. It's set in 1757 and portrays Native Americans against the backdrop of the French and Indian War. Many other films based on the same book have been made in Hollywood.
The 1992 movie and its music touched audiences worldwide, and Native American musician Alexandro Querevalu is one such fan.
He has adapted the music into his signature works, such as The Last of the Mohicans, El Condor Pasa and Yo Soy. He uses traditional wind instruments such as the quena (Andean flute) and zamponas (a type of panpipe).
Querevalu will embark on a China tour, visiting more than 20 cities from Dec 10 to Jan 26.
"I perform the theme song of the movie in my own style, showing my inner feelings. It almost sounds as if I'm crying," the musician says.
Querevalu has toured China twice since 2016.