Real life tales inspire drama about elderly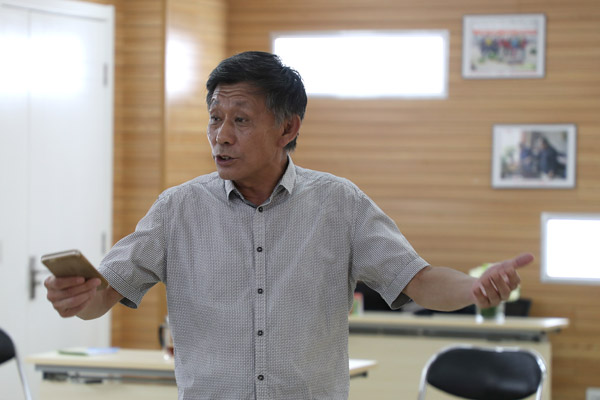 Actor Ma Yingchun has made his directorial debut with the theatrical drama To the Elderly with Love in his 60s. [Photo by Zou Hong/China Daily]
Now in his 60s, retired National Theater of China actor Ma Yingchun has made his directorial debut with the theatrical drama To the Elderly with Love, which as it title suggests focuses on the lives of the elderly in China.
Running from Oct 11 to 15 at Beijing's West Theater, the drama, written by Ma, tells the story of a retired forest keeper, Kang Qingsong, who comes to Beijing to visit his son. However, Kang's arrival stirs conflict with his son, who is married and lives with his wife's parents.
"I am a retired actor and I have many friends of my age. I've know their stories firsthand, such as loneliness, a gradual loss of connection with the current society and their distance from their children, even a struggle to survive," says Ma.
"People rarely pay attention to the problems elderly people face, and I want to put them in the spotlight with this drama. I want to raise awareness about the situation of the elderly, especially among young people, so they think about their relationship with their parents."
Ma performed in many films, TV series and plays. In one TV drama, also titled To the Elderly with Love, he played a retired man who is sent to a care home by his son.
"Once the elderly can no longer work, they're considered to be a burden, and some even die from lack of care. In the senior home, which was portrayed in the TV drama, they watch out for each other but their children rarely visit them. That TV drama made me think," says Ma.
Though he has retired from acting for the National Theater of China for a few years, Ma has not slowed down and his recent performance in the drama, Beijing Fayuan Temple, which was written and directed by renowned stage director Tian Qinxin, received a warm response from audiences. In it, Ma plays a royal minister at the end of the Qing Dynasty (1644-1911).
According to Tong Yu, promoter of Ma's drama, To the Elderly with Love is the first in a trilogy exploring the lives of elderly people in China.
The drama stars actors and actresses from the National Theater of China and the China National Theater for Children.
After its premier in Beijing, the drama will go on a 20-city tour across the country and will return to Beijing for a run at the Drum Tower West Theater from Nov 8 to 12.
chennan@chinadaily.com.cn