Documentary triggers tributes to China's 'comfort women'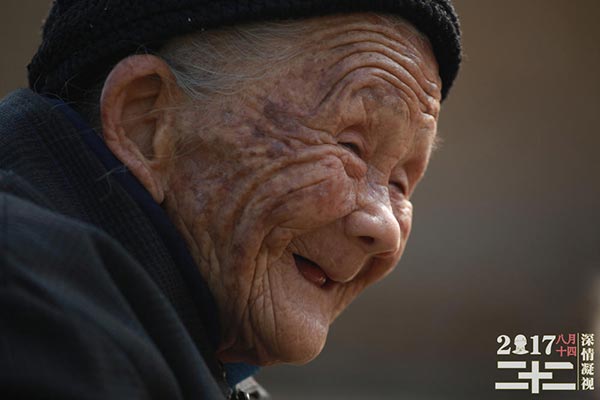 A scene from Twenty Two. [Photo/Mtime]
A documentary about China's "comfort women" has grabbed the attention of the nation since its debut last week.
The documentary Twenty Two features the tale of 22 "comfort women", a euphemism used for girls and women forced into sexual slavery by the Japanese during WWII.
The film became an unexpected hit, with box office revenue exceeding 139 million yuan ($20.8 million) within nine days, according to Maoyan, a major film database in China, making it the first Chinese documentary to surpass 100 million yuan at the box office.
Twenty Two scored 8.9 out of 10 points on Douban, a popular movie rating platform in China, higher than 80 percent of its peers in the documentary film category.
Theaters have increased the number of viewings from 1.5 percent per day on its release to 9.8 percent currently.
"The meaning behind the film is worth a five-star review. It might be the last video recording those women alive," said a popular comment on Douban.
"Thanks for letting me get closer to this group of women. After watching it, I felt so sorry for their past misfortune, but so happy for their peaceful days now," said another comment on Douban.
Some 400,000 women across Asia were forced to be comfort women for the Japanese army during WWII, nearly half of them Chinese, according to the Research Center for Comfort Women at Shanghai Normal University.
Old age is now taking the lives of "comfort women", and only 14 of them are still alive on the mainland, according to the center.
Huang Youliang, one of the protagonists in Twenty Two, died on Aug 12, two days before the debut. Among the 22 women featured in the documentary, 14 have passed away since 2014.
"I feel guilty, probably because they are passing away, and we are too late to visit," said Li Liangfen, a moviegoer.
Huang is also the last victim to have attempted to sue the Japanese government over sexual slavery on the Chinese mainland, according to Su Zhiliang, director of the research center.
A total of 24 Chinese "comfort women", including Huang, have attempted to sue the Japanese government in four cases since 1995, though all have failed. Huang never received justice or the apology she longed for in her lifetime.
"I hope at least one woman can receive an official apology from Japanese government, while they are alive," another Douban user said.
After showing the day-to-day lives of the "comfort women", the film thanks and acknowledges the 32,099 people who helped crowdfund the film.
The film's director Guo Ke promised to donate all profits from the film to NGOs working for "comfort women".
"We will also visit the women each year, trying our best to help them," Guo said.