Christopher Nolan promotes latest film 'Dunkirk' in Beijing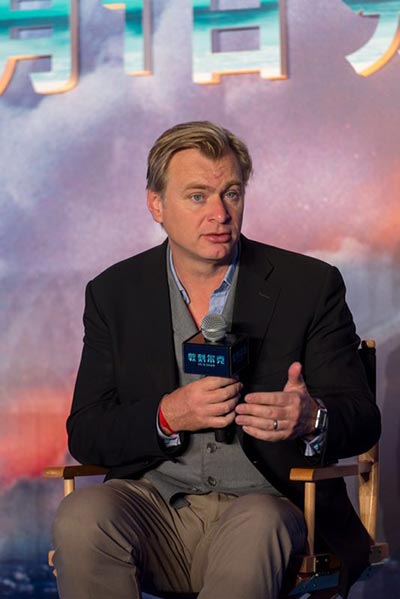 Acclaimed director Christopher Nolan promotes his latest film Dunkirk at an event in Beijing on Monday, August 21, 2017. [Photo/China Plus]
A promotional event has been held in Beijing for Christopher Nolan's latest effort, Dunkirk.
Nolan is in Beijing, along with others connected to the film, to promote it ahead of its September 1st release in China.
Although Dunkirk is set during World War II, Nolan says he believes it's better to describe the film as a suspense thriller, rather than a war movie.
"I think it's one of the great thriller suspense stories of all times. Our heroes face impossible loss and really no solution to the problems can be seen is what makes one of the great stories for me. So I needed a form of storytelling that would draw attention to what's different about the story; not to allow the usual characteristics of war movies that audiences are very familiar with to disguise what's unique and different about the film. So I approach it not as a war film but as a survival story and a suspense thriller," Nolan said.
This World War II thriller is centered on the real-life evacuation of Allied troops from the French city of Dunkirk while being encircled by Nazi forces in 1940.
Dunkirk follows the story of a handful of soldiers, sailors, Royal Air Force pilots and civilian volunteers.
With a budget of some $100-million, the film stars, among others, Tom Hardy, Harry Styles and Kenneth Branagh.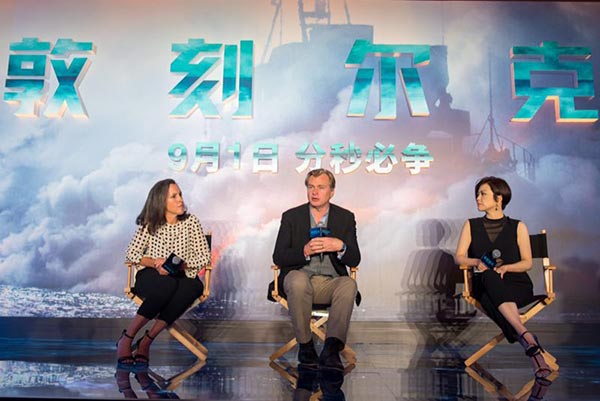 Emma Thomas (left), producer of Dunkirk, along with her director husband, Christopher Nolan, (center) attend a news conference to promote their new film in Beijing on Monday, August 21, 2017. [Photo/China Plus]