The dramatic art of expressing love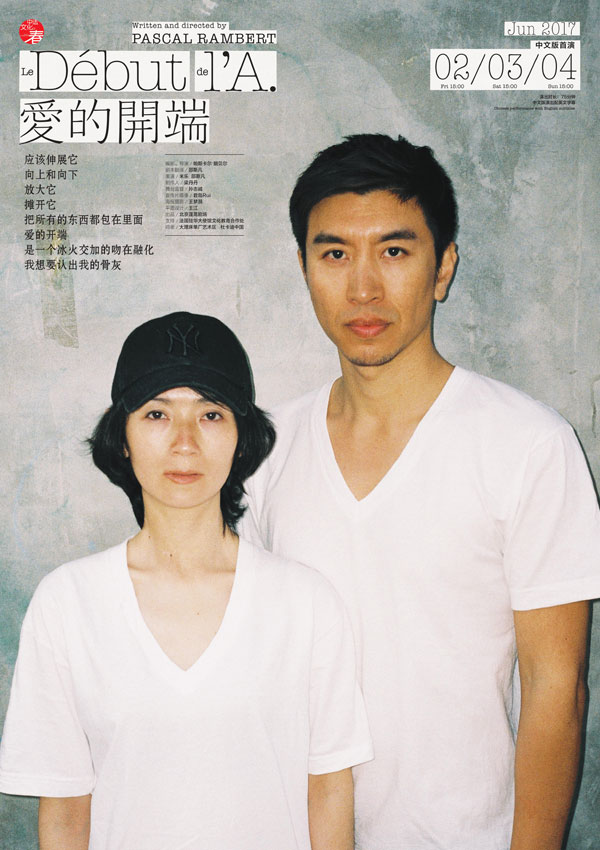 Poster for the French drama, The Beginning of Love [Photo provided to chinadaily.com.cn]
"Sometimes an idea just shows up in an elegant yet late way. And no one could imagine that the drama was born out of an almost naive fear of losing contact with others," says Pascal Rambert, director of the French drama, The Beginning of Love.
In June 2016, its prequel, The Ending of Love, began to tour China with a brand new Chinese version.
One night that month, the director sat with cast members on one of the terraces at the Nanluogu Lane. And he told others that he was reluctant to be parted from them when the tour ended.
"I think we should keep working together. So, why don't we produce The Beginning of Love afterwards?" the 55-year-old man asks.
The idea came true when they met with each other in Dali, Southwest China's Yunnan province, several months later and began rehearsals at the Dali Art Factory.
From June 2 to June 4, the cast and crew returned to Beijing and performed the 75-minute drama, The Beginning of Love, at the Pengaho Theater.
"I wrote the script in August 2000 in Paris. And the work was based on my life story, thus there was no hiding in it. Everything is real except the car crash at the end of the story. I even did not make any names for the characters, as they can be our names," Rambert says.
"The only thing that I did in my creation was listen to the missing part in my heart and wrote them down. And every each day I was having a silent conversation with my beloved one," the director says, "With all the louvers closed in my room during daylight, I pushed myself hard on writing. What I have been saying is such a special moment, when love is new and we wish it to last forever."