Hindi film strikes emotional chord to top China box office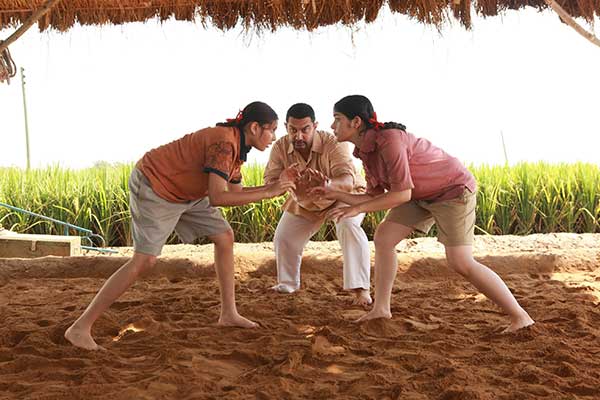 Dangal has won both box-office success and critical acclaim in China.[Photo provided to China Daily]
Over the weekend, a Hindi film created history in China.
Dangal, which translates to "wrestling match", has reached the top of the Chinese box office, in a first for Indian cinema. By Wednesday afternoon, the biographical film on an Indian wrestler who prepared his daughters for world-class competitions, had made 491 million yuan ($71.26 million), pushing Hollywood's Guardians of the Galaxy Vol. 2 to the second slot.
The 2016 Hindi film was released on the Chinese mainland on May 5 alongside this year's Marvel sequel, a much awaited film that got its largest global share from the Chinese market. Hollywood dominates the quota-based system, through which China allows 34 foreign films for general screening each year.
Of the dozen or so Indian films shown in the past decade, only two or three made any noticeable box-office gains in the country.
But Dangal has achieved a rare feat: commercial success, critics' reviews and a trending topic on Chinese social media.
Now playing by its Chinese title Shuaijiao Ba Baba (Let's Wrestle, Dad) on more than 10,000 screens in the country, the film was initially shown on about 7,000.
Set in northern India's Haryana state, the film follows the journey of Mahavir Singh Phogat, once a young wrestler whose sports career was truncated under parental pressure, to his days as an overweight, aging father who trains his feisty eldest daughter, Geeta, to win gold for India in the 2010 Commonwealth Games.
In the film, Phogat is at first seen yearning for a son to fulfill his big dreams from a small town that holds a conservative view of women. But soon the father of four girls realizes that gender is of little consequence and begins to coach Geeta and his second daughter, Babita, to win at international matches.