Book list challenges kids to read more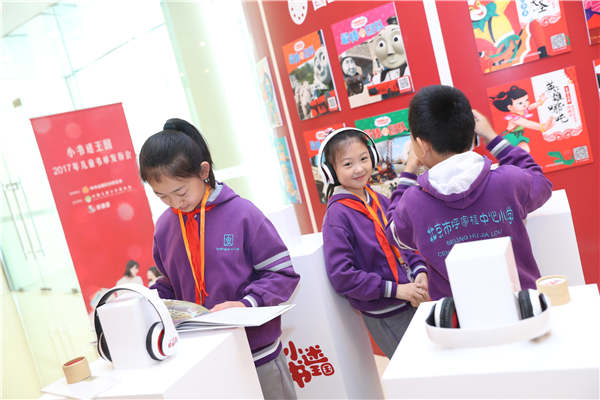 Primary school students comb through paper books or listen to audiobooks at a Beijing event to promote reading. Provided To China Daily
A slew of activities were held in Beijing to celebrate World Book Day in April. Some focused on helping children form a reading habit.
As a 2016 report by industry monitor Openbook suggests, children's books account for 23.5 percent of sales, the largest segment of China's $10 billion publishing market.
To help parents select the suitable reading materials, a book list for children compiled by experts was recently released at the Chinese Museum of Women and Children.
The list called Kingdom of Little Bookworms is divided into two parts - one for children aged 3 to 6, and the other for those above 6.
"We still don't have an official system of reading levels in China," says Bai Bing, a veteran children's book writer, who started writing in 1977. "And that's what we wanted to incorporate when compiling this list."
More than half of the 35 books recommended for children under age 6 are picture books in simple language, while the other 42 books for older children deal with wider topics and require better comprehension ability.
During the book list's release, experts also emphasized parents' role in cultivating children's reading habit.
"At home, if parents watch TV and are on gadgets all the time, it's hard to imagine that their children will have a good reading habit," says Wang Zhigeng, director of the children's book section at the National Library of China.
"Action speaks louder than words. If parents themselves like reading and buying books, the children will imitate - and reading will become a family's culture."
Wang points out that reading aloud for the children is important. He says: "To read out loud the story with your emotions, a clear voice and body language - to convey your feelings to your children ... It will help the development of children's abilities of empathy and comprehension."
The book list is part of a children reading promotion program sponsored by China Children and Teenagers' Foundation and Kentucky Fried Chicken.
Zhu Xisheng, general-secretary of the foundation, says that it will donate 100,000 books recommended to 1,000 libraries in the country.
Johnson Huang, general manager of KFC China, says that his company has given out 20 million books with their kid's meals since 2015, and plans to give 100 million books in the next five years.