A celebration of cultures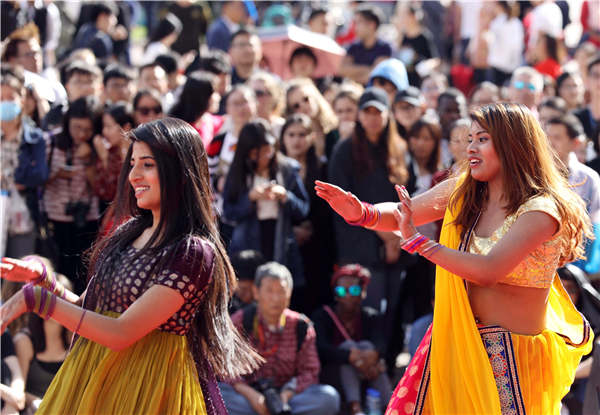 International students from countries including India, Madagascar, Russia and Tajikistan at the University of International Business and Economics on Thursday attend the 8th International Culture Festival in Beijing, dancing, playing music instruments and selling their countries' souvenirs. ZHU XINGXIN/CHINA DAILY
A recent festival at a Beijing university highlights the countries along the Belt and Road. Zhang Lei reports.
Dances. Martial arts. Peking Opera. Applause erupted as Chinese and foreign students sang Together at the end of the three-hour-long opening ceremony of the 8th International Culture Festival on the campus of Beijing's University of International Business and Economics on Thursday.
Otherwise, it looked like a hawkers market. Students called to passers-by, hoping to lure them to the 67 food stalls and exhibition booths, 37 of which were dedicated to the ancient Silk Road.
This year's theme, "Youth Messengers on the Silk Road", nods to the Belt and Road Forum for International Cooperation that will take place in Beijing on May 14 and 15.
The student festival was divided into three areas-"Retrace the Silk Road", "World Customs" and "Charm of the Chinese Style".
International students presented performances and staple dishes from their homelands.
Croissants and baguettes were washed down with champagne that overflowed after corks were popped in the French booth.
The Russian stand hosted nesting dolls, caviar and black bread.