US choreographer creates ballet inspired by Chinese poetry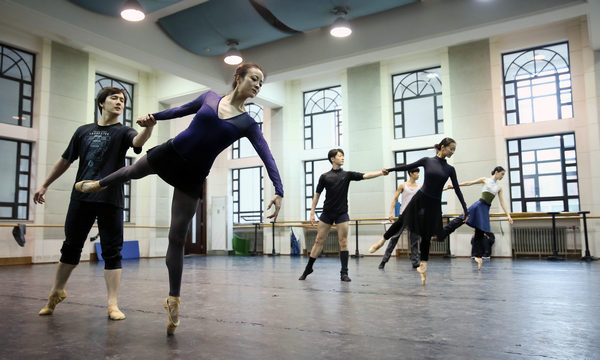 Dancers from the National Ballet of China practice for the upcoming performance Dance and Song of the Earth, April 7, 2017. [Photo/Xinhua] 
Renowned choreographer John Neumeier will bring his new work Dance and Song of the Earth to China next month.
The ballet, a combination of Neumeier's Song of the Earth and Spring and Fall, will be staged at the Beijing Tianqiao Performing Arts Center from May 12-14.
Composed by Austrian musician Gustav Mahler in 1908-1909, the symphony Song of the Earth was inspired by seven ancient Chinese poems by six poets of the Tang Dynasty(618-807), including Li Bai, Zhang Ji and Wang Wei. Mahler wrote six songs based on the poems, expressing the transience of human existence.
Neumeier choreographed a ballet to this music in 2015.
In the upcoming performance in Beijing, the choreographer added many more Chinese elements, including ancient Chinese-style costumes. The body movements of the performers were designed to resemble freehand Chinese ink paintings.
Spring and Fall is Neumeier's work based on Antonin Dvorak's Serenade for String Ochestra in E Major.
A group of leading dancers from the National Ballet of China will perform in the ballet, along with foreign opera singers and dancers.
Neumeier said a choreographer should create a completed world on stage to express his or her own ideas. Despite the fact the ballet was created based on ancient poems and music composed in the 18th century, the dance that will be performed is brand new.
"When a stage is unveiled, it is an ongoing activity. The distance between the audience and the dance is not far," Neumeier said.