Music ties Belt and Road countries together at Shenzhen festival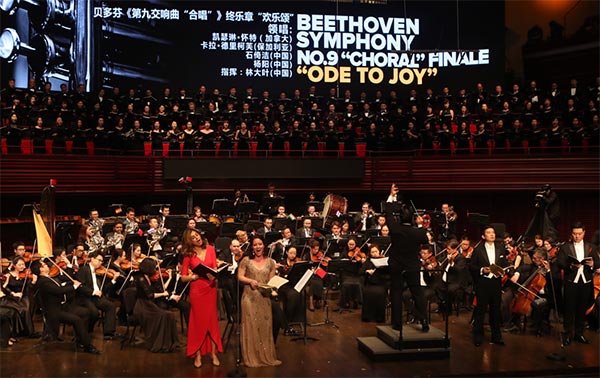 An international music festival with performers from Belt and Road countries kicked off in Shenzhen. [Photo provided to China Daily]
An international music festival with performers from Belt and Road countries kicked off in Shenzhen, southern Guangdong province, on Saturday night, with the aim of strengthening cultural exchanges and deepening friendship between the people.
The opening concert of the Shenzhen Belt and Road International Music Festival was held at Shenzhen Concert Hall, attracting more than 1,500 people. The festival, co-hosted by the Shenzhen municipal government and Chinese Musicians Association, will last three weeks till April 16, during which more than 700 musicians from 12 troupes from nearly 30 Belt and Road countries and regions will stage 16 concerts in the city.
The opening night show featured musicians from 17 countries and regions along the Belt and Road route, including the modern states of Poland, Kazakhstan and Slovakia. The Shenzhen Symphony Orchestra formed an international orchestra, creating an acoustic feast in the 90-minute performance.
The Belt and Road initiative is not a "solo" performed by China, but a "symphony" performed by many countries together, said a congratulatory letter delivered by Vice Premier Liu Yandong.
Liu said she hoped that people from Belt and Road countries and regions could deepen cultural exchanges through the bridge of music and make new contributions to the progress of human civilization.
The opening concert featured 10 performances from a variety of cultures, including the Western aria Habanera from Bizet's opera masterpiece Carmen; the suona concerto Hundreds Birds Worshipping the Phoenix; a classic performed with the traditional Chinese musical instrument suona; and Ode to Joy, the finale to Beethoven's Symphony No.9 Choral.
Flags of different countries covered the instruments and music scores of many musicians, according to a report by Xinhua news agency. This is meaningful as it creates a friendly and harmonious atmosphere, said Huang Renzhong, director of the opening concert.
The theme of the music festival — "Connect China and the World" — is in line with UNESCO's view that culture can connect the world, said Francesco Bandarin, UNESCO's assistant director general for culture.
Cultural exchanges have gained increasing importance in today's environment as an antidote to international disputes and conflicts, he said.
Huang Xinyi, who attended the opening concert, said she was deeply impressed by the spectacular art feast.
"The performance by musicians from different parts of the world makes me feel that we are from the same family. In the world of music, there are no boundaries. Music is truly a good tool to connect the heart of people from different countries and to deepen their understanding."
Related:
Beethoven powers Vienna orchestra across China
Chinese violinist Wang Jiazhi debuts at Carnegie Hall in New York