Keen readers flock to recording booths in response to hit TV show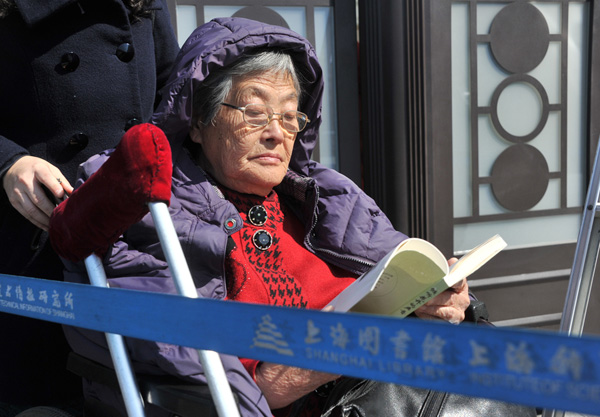 A senior Chinese lady waits in a wheel chair outside the reading pavilion in Shanghai, Mar 6, 2017. [Photo/VCG]
The Readers program has also erected booths in other cities including Beijing, Hangzhou, Guangzhou and Xi'an to lure more people to read and share their life stories.
With the recent boom of culture-themed TV shows such as Readers and Chinese Poetry Competition, some are optimistic that this will help rejuvenate the country's love for literature and reading in general.
A 2016 nationwide survey said an average Chinese read 7.84 books in 2015, of which 4.58 were paper books. Although the number has slightly increased compared to 2014's 4.56, Chinese people lagged behind their Asian counterparts, as statistics show South Koreans read an average of 9.2 books in 2014 and Japanese people read 18.
Related:
TV program 'Readers' rekindles passion for literature across China