Statue to honor 'scavenger' reader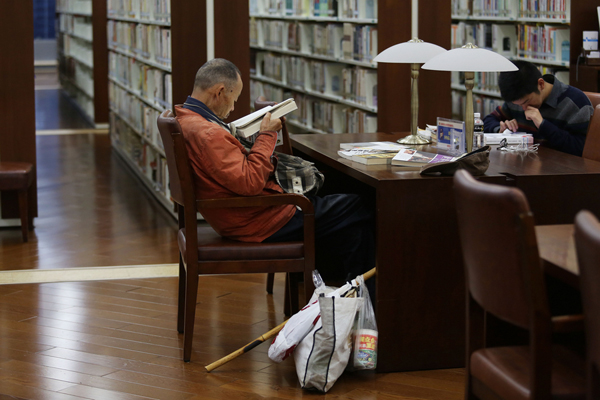 Wei Sihao reads in the Hangzhou Public Library. [Photo/VCG]
East China's Hangzhou city will erect a statue to honor a "scavenger" whose deep love for books and philanthropic deeds touched the hearts of many.
A 1.6 meter-high bust of elderly man Wei Sihao with papers and books will be erected at the library where he often read. The statue will also include the bamboo stick and plastic bottles he carried with him.
"That's how the elderly man read in the library," statue designer Zhu Bingren said.
Wei Sihao became well-known after a picture of him washing his hands carefully before reading in a library in Hangzhou went viral online. A frequent visitor to the library, Wei would put his bamboo stick and bags of recyclables beside him every time he read there.
The library, which is open to beggars and vagrants, was dubbed "the warmest library". For more than 10 years, Wei went there to read every weekend.
"Books are my spiritual food. I cannot live without them for one day," the man told chinanews.com in a 2014 interview. "I am getting old and the brain is weakening. I need to charge myself and refresh my mind continuously."
Unfortunately, the elderly died in a road accident in December 2015. It was only after his death that his philanthropic deeds were discovered.
Wei was a teacher in a senior middle school in Hangzhou before he retired. Although he received a pension of more than 5,000 yuan ($720) a month, he had been collecting recyclables to support students in need for years.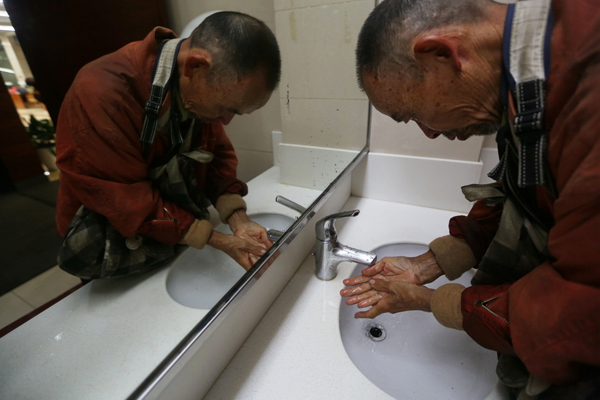 Wei Sihao washes his hands each time before he reads. [Photo/VCG]