Readers borrow library books through WeChat in Hangzhou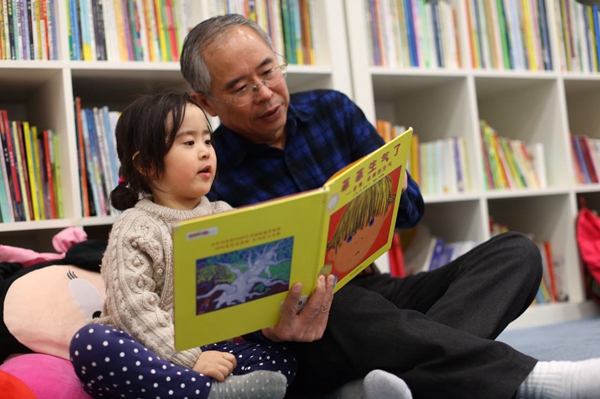 A grandfather tells stories to his granddaughter. [Photo by Wang Jing/Asianewsphoto]
In Hangzhou, southern China's Zhejiang province, borrowing books from the library is now as simple and convenient as shopping online: click, pay and wait for delivery.
The city's public library recently launched a program on WeChat, a popular Chinese messaging software, enabling its readers to check out books online and get them delivered to their homes at low prices, according to a report by Daily Business.
To enjoy the "Hangzhou yue du", or "Hangzhou enjoyable reading" service, one first needs to follow the library's official WeChat account, which provides a list of available books. After picking books, borrowers are required to submit information such as their library membership card number, ID number, cell phone number and delivery address.
The selected items will be dispatched by express within three days after payments are made via WeChat. Each reader can borrow up to five books in every transaction and a maximum of 20 books in total at a time. For each book transaction, the delivery fee is only three yuan ($0.4) for three or less books, and one yuan for each additional book.
The books on loan can be collected and returned by express service at the same cost.
The library books may be borrowed for up to 40 days. An overdue fine of 0.1 yuan per day will be imposed on each overdue item. The maximum charge is three yuan.
Those who fail to return the overdue books for a long time will have their accounts frozen.
According to the report, readers now can borrow the library's most popular books from this platform. The online book stacks will be renewed and enriched gradually according to readers' borrowing habits and preferences.
With a collection of more than one million books, the library also inked an agreement with the State-owned Xinhua bookstore, which will provide up to five copies of its latest books for online borrowers.
By the end of December, the library's old and classic collections dating back to 1958, when the library was established, will be put online too, making the total number of books available more than 300,000.