Festival offers many treats for fans of CEEC films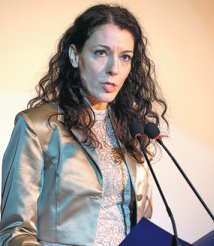 Hungarian Ambassador Cecilia Szilas speaks about collaborations at the inaugural ceremony for the Year of China-CEEC Media Cooperation and CEEC Film Festival. FENG YONGBIN/CHINA DAILY
Till about three decades ago, the most familiar foreign films for the Chinese were not from Hollywood but imported from Central and Eastern Europe.
From Walter Defends Sarajevo to The Good Soldier Schweik, these military-themed movies were loved by the Chinese.
Now, a new movie exhibition will showcase the latest cinematic offerings from those countries.
The event, called the CEEC Film Festival, is being held jointly by the State Administration of Press, Publication, Radio, Movie and Television, the Ministry of Foreign Affairs and China Film Archive.
The inaugural ceremony for the Year of China-CEEC Media Cooperation and the festival were held last Friday, followed by the screening of the 2015 Hungarian fantasy film Liza, the Fox-Fairy.
A bizarre mix of Japanese mythology and Hungarian reality, Liza, the Fox-Fairy is based on an unlikely true love story about a nurse and a police officer.
Li Shuo, curator of the festival, says more such movies will be shown during the event, which will run until the end of 2017.
She says the archive is working on bringing high-quality movies for the festival.
As of now, some eight films from CEE countries, such as Croatia, Bulgaria, Poland and the Czech Republic, are being targeted. "Most of the films are new," adds Li.
She says the criteria to select the movies is artistry as well as their reception at international film festivals.
The CEEC film festival movies will be screened at the China Film Archive, art-house theaters and on CCTV 6, China Central Television's movie channel.
Meanwhile, the festival aims to boost cinematic ties between China and CEE countries.
Tong Gang, deputy director of China's top movie regulator, says that the Chinese government hopes the festival can bring professionals from the two sides to work together to further cinematic exchanges.
Referring to The Last Visa, the largest TV series coproduction between China and the Czech Republic, he says it is a good example of what cinematic collaboration between China and CEE countries can produce.
The Last Visa, based on a true story of Chinese diplomat Ho Feng-shan during World War II, received overwhelming response in China when it was screened earlier this year.
The Hungarian ambassador to China, Cecilia Szilas, says Hungary is committed to cooperating with China to develop and expand collaborations.