Scattering Book campaign catches cold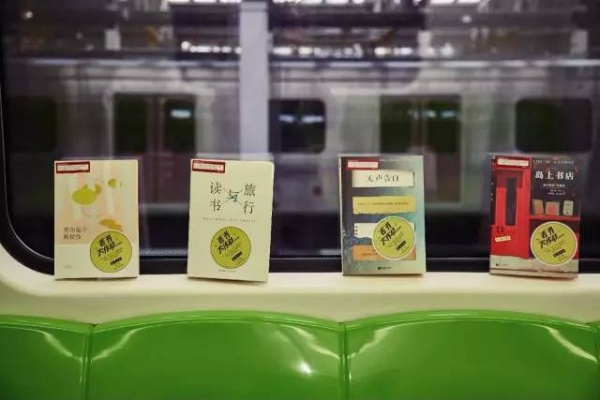 Books are scattered in the subway. [Photo/Xinshixiang]
A Scattering Book project swept across big cities in China three months ago with 10,000 books dropped in subways, airplanes and taxis for sharing.
Now the event host Xinshixiang reveals that the data shows that 4,008 books were picked up once while only 239 books were picked up more than three times.
Who is reading these books?
Celebrities such as host Chen Luyu, actress Xu Jinglei and actor Huang Xiaoming participated in the previous Scattering Book event. They chose their favorite books and scattered them in the subway with messages inside.
Nobody now knows where those books are. Some have posted photos of cleaners collecting these books as trash. Also, only a few people left messages inside the books after reading them. One passenger named Huang said she once picked up a book at Dongzhimen subway station in Beijing but now she has forgotten its name. "I was happy when I picked it up and put it in my bag. But it was too crowded as it was rush hour and there was no space to carry it. As I was not much interested in that book, I forgot where I had put it."
WeChat group fostering reading habits
Internet user "Hui Hui", a teacher, paid 10 yuan to join a WeChat group which advocates reading and sharing of English-language books. "Most group members keep silent and only the administrators post some messages occasionally. As the 10 yuan fee is low, I have muted the notification button and didn't read through even one book."
A woman surnamed Fan said, "Joining a reading group was intended to inspire myself to pick up the reading habit but each time I gave up half way."
However, some seem like the group reading way. One, surnamed Bai, a bank employee said, "After graduating from college I did not complete a single book. Then I joined a reading group whose owner has said that if we don't hand in our reading notes within one week we will be kicked out of the group. As group members always share reading plans and experience with each other, this can inspire me to read as well."