Striving to keep a New Year tradition alive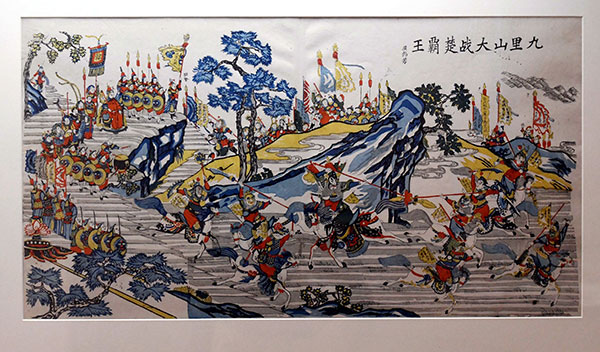 A Taohuawu New Year woodcut print of the Qing Dynasty (1644-1911) on display at a Taohuawu nianhua exhibition held in Suzhou, Jiangsu province in November. [Photo/Xinhua]
Elderly craftsmen fear for future of their art, a part of China's intangible cultural heritage that is fast disappearing Spring Festival is supposed to be a joyous occasion, but it has left Fang Zhida, 83, anxious. Days before the Lunar New Year, he locked himself in his studio to focus on an ancient folk art.
Taohuawu New Year woodcut prints, or nianhua, are a type of traditional art that people put on their doors to ward off evil and express good wishes for Chinese New Year.
But in recent years, business has been poor, leaving Fang worried that his beloved craft may eventually die out.
The craft was born on Taohuawu street in Suzhou, Jiangsu province.
It involves a craftsman drawing a sketch on a piece of paper before carving it on to a set of boards and painting it. The print is complete once the boards are pressed onto a piece of paper or other surface.
The art, which dates back more than 350 years, was added to China's intangible cultural heritage list in 2006.
Fang began learning nianhua at age 14, and describes it as the love of his life.
Since 2004, he has been teaching the traditional printing technique at the Taohuawu Woodcut New Year Print Society. Four students are chosen every two years, with 28 students graduating so far.
"It is important that we introduce the art to the young and pass it down," he said.
From painting to woodcutting and printing, it can take as little as a week or as long as a year to finish a single piece, and if any mistakes are made then the whole thing must be redone from scratch.