Turning a new page: Writers of online fiction taste fame and fortune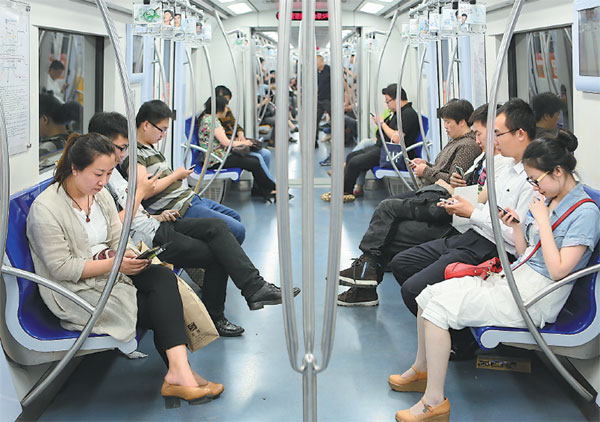 Passengers on a Line 2 subway train in Beijing turn to their smartphones to read books, magazines, or simply play games, to break up their journeys. [Photo provided to China Daily]
It has been eight years since Tang Xintian, a post-80s woman in Beijing, started working as a freelance writer.
Tang majored in economics and began working as analyst in Shanghai after graduation. However, it was her passion for writing that made her quit her job and started to write novels online.
In 2009, Tang started by posting her stories on Hongxiu Tianxiang website, China's largest community of fiction lovers online. Luckily, her first novel was weel accepted and ranked in the top three on the website. Later, it even got published.
Tang was greatly inspired by this success, and has been working as an online writer since then. In 2011, she became more popular across the country when the TV series Naked Wedding, based on her novel, became a hit.
Despite her popularity, Tang continues to post her works online, because she has found internet "a very good place to let people know your work, especially publishers and readers."
"Not many people who are fond of writing actually end up getting their work published, whether as books, or in magazines or newspapers. But the digital platform offers a way for writing enthusiasts to share their work," said You Ting, the vice-president of iReader, China's leading brand for digital reading, at a cultural event in Beijing on Dec 30, 2016.