Crowdfunding injects new life into ancient Peking Opera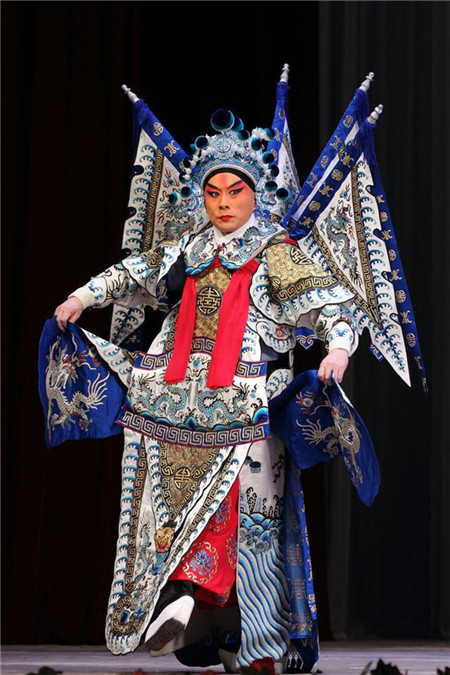 A crowdfunding project aims to bring Peking Opera closer to today's audiences. [Photo provided to China Daily]
A Peking Opera gala featuring most of today's popular Peking Opera artists, including Li Hongtu, Zhao Baoxiu, Meng Guanglu and Tan Xiaozeng, will be staged at the Beijing Exhibition Center Theater on Tuesday.
The special performance is a crowdfunding project. Nearly 800 people donated more than 619,000 yuan ($88,400) in 34 days.
"The purpose is to attract people who are not Peking Opera fans," explains Pan Zhipeng, the leader of the project.
 Most donors are young people, who paid through a social-media platform, Pan says.
Pu Jiaying, a lecturer from Dalian University of Foreign Languages, booked two tickets when she heard about this project.
"I know how crowdfunding works. The ticket is cheaper than that of the daily performance. And you don't always have the opportunity to see so many stars on the same stage," Pu says.
It was Li, the actor and deputy director of Mei Lanfang Peking Opera Company, who first suggested doing a crowdfunded performance.
This is not the first crowdfunding of Peking Opera in China. Earlier this year, Ling Ke and Wang Peiyu-two young Peking Opera performers-each launched crowdfunding projects. The older generation of artists like Meng and Zhao were unaware of how crowdfunding works.
"It is the first time that I have heard the idea of crowdfunding," says Zhao. "But it sounds interesting."
Li says: "It is really meaningful. This event attracted so many young people via social media to notice that people involved in Peking Opera are doing something.
In China, Peking Opera is often regarded as "the art form of old people".