Confucius Institutes diversify as language program grows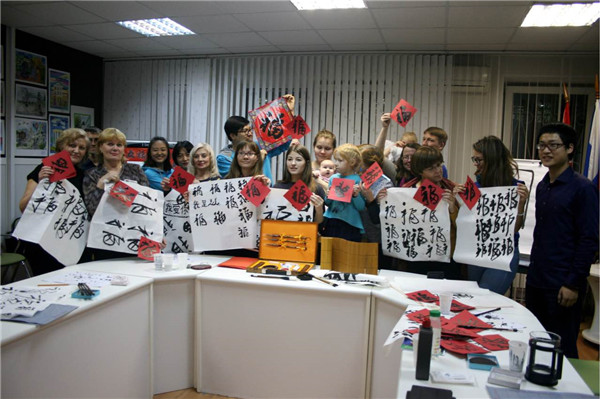 A calligraphy class helps locals to learn the age-old art genre in the Confucius Institute in Yekaterinburg, Russia. [Photo provided to China Daily]
When Canadian pianist Roger Lord was performing at the Chinese New Year TV gala in 2013, one of the hosts was Mark Rowswell-better known by his Chinese name, Dashan, and for his mastery of Chinese cross-talk.
"We are both from Canada and have the same birthday, but I have always been envious of Dashan's ability to speak fluent Mandarin," says Lord.
That prompted Lord to register as a student at the Confucius Institute in his hometown of New Brunswick, which was formed in partnership with a university in Qufu, Shandong province-the hometown of Confucius-to offer Chinese-language courses and activities to the locals.
Although Lord still cannot speak Chinese as fluently as Rowswell, he introduced himself in Chinese last week when he was giving a speech at the 11th Confucius Institute Cnference held in Kunming, Yunnan province.
"My Mandarin perhaps is not so good, but I think I can speak through music. My contact with the Confucius Institute deepened my understanding of Chinese culture," says Lord, who has recorded a CD of Chinese music played on the piano, entitled Chinese Treasures.
Launched 12 years ago, the Confucius Institute is a nonprofit educational organization that works largely through cooperation between a Chinese university and a foreign counterpart. It has had 511 branches in 140 countries, teaching Chinese to more than 2.1 million students.
"In numbers, the Confucius Institute has become the biggest educational and cultural community in the world," says Hao Ping, China's vice-minister of education.
With rapid expansion in recent years, the Confucius Institute has also started to diversify by setting up institutes that highlight traditional Chinese medicine, business and fashion design.
Zhang Haiyan has been studying multinational cooperation and teaching at universities in Europe for more than 30 years, and he is now the director of the Confucius Institute at Neoma Business School in France.