Chinese star uses TV shows to reveal a new side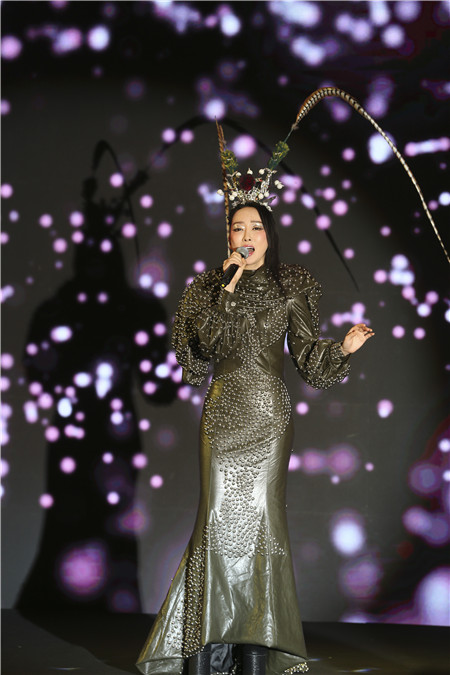 Sa Dingding performs Wukong, a song inspired by the tale of the Monkey King, in Beijing. [Photo by Feng Yongbin/China Daily]
Her slim figure is wrapped in a long leather cape dress. Her long straight hair looks particularly black under a shiny sliver headpiece, which has long pheasant feathers.
It is 8 pm on a cold evening in a five-star hotel in Sanlitun, a popular commercial area in the capital's downtown area.
Chinese singer Sa Dingding has done a news conference in the afternoon and has been doing interviews for four hours.
She is there to renew her contract with the Universal Music Group after a 10-year collaboration as well as to announce her new album, which will be released early next year.
"I want every one of my songs to be like a drama. Each song is a story, and I am not just singing but also portraying roles," says Sa, who performs a song Wu Kong at the news conference. It was written and first performed by Dai Quan in the second season of the TV show Song of China in 2015 and broadcast by China Central Television.
The song, which takes its name from Sun Wukong-also known as the Monkey King-the main character in the 16th-century Chinese classical novel Journey to the West by Ming Dynasty (1368-1644) writer Wu Cheng'en, is a soulful blend of pop music and Peking Opera, and a hit in China in 2015.