Pina Bausch's legacy lives on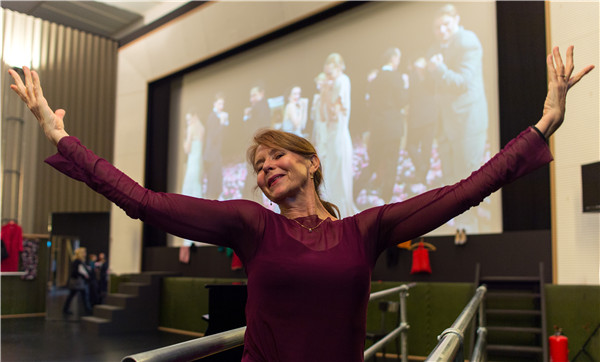 Josephine Ann Endicott, former assistant to German choreographer Pina Bausch, gives a dance workshop in Bonn, western Germany, on the sidelines of an exhibition Pina Bausch. [Photo/Agencies]
The dance company that legendary German choreographer Pina Bausch, who died in 2009, built into one of the world's most acclaimed is doing its utmost to foster her moving legacy.
Beloved of fellow artists and seen as a visionary by her peers in the dance world, Bausch mixed dance and theater to produce a tumult of emotions, free from traditional constraints that often divided audiences.
"I'm not interested in how people move, but in what moves them," she said shortly before her death from cancer.
Now her life's work is being honored with a Berlin exhibition, Pina Bausch and the Tanztheater, where members of the company will offer up to five workshops a day to curious visitors and dance lovers through Jan 7.
"I couldn't have imagined that you could express yourself without difficult technique," says 38-year-old Kerstin Brennscheidt, who had brought her son to rehearse a piece from Bausch's 1982 work Nelken.
The exhibition re-creates the Lichtburg, a former cinema in the western industrial city of Wuppertal that Bausch turned into the headquarters of her dance revolution.
"Somehow she's still there in us. I feel her aura around us. It's overpowering," says Australian Josephine Ann Endicott, 66, who became the choreographer's assistant after being one of the star dancers of the Tanztheater.
Since Bausch's death, her company has stepped up the effort of passing on her works to the younger generation within their own ranks and to other professional dancers.
The choreographer's disciples have communicated their secrets to the Paris Opera Ballet, the Bavarian state ballet and the National English Ballet in recent years.
And Bausch deputy Endicott has branched out even further by staging the dance Kontakthof with a group of teenagers and those aged above 65.
Perhaps the greatest challenge for the troupe now is to begin creating something new, rather than just remaining in their founder's shadow as a living monument.