Mining the modern value of Long March spirit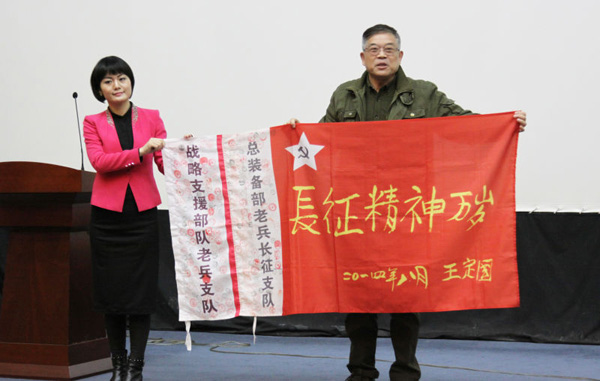 Tian Jing, the first person to retrace the entire 65,000-mile-journey of the Long March, shared his spiritual journey at the seminar on Dec 4. [Photo provided to chinadaily.com.cn]
In the depths of winter chill, August First Film Studio Auditorium was heated by the lively atmosphere of a viewing seminar. Sponsored by the Wetland media think tank, the seminar on the movie Triumphantly Join Forces was held on Dec 4. Studio executives, movie creators, experts, scholars, film critics and media professionals discussed the movie's social and historical significance and artistic value. They praised the guidance and spiritual support adapted from the Long March stories to the present reality.
Through introducing the legendary historical epic, Triumphantly Join Forces shows the glorious history of the First Front Army, Second Front Army and Fourth Front Army during the Long March.
The list of actors is impressive. Wang Hui stars as Mao Zedong, Hou Xiangling plays Zhou Enlai, Tao Xianfeng plays Zhu De, Li Hongrui plays Zhang Guotao, Hou Yong plays He Long, Ren Mingsheng plays Xu Xiangqian and Tuo Yiran plays Zhang Wentian.
The movie Triumphantly Join Forces is co-produced by August First Film Studio, Baiyin City municipal party committee and municipal government, Lanzhou Film Studio, Gansu Three Army Join Forces Film and Television Culture Development, and TV Culture Media Company. Li Yi, former vice president of Baiyin City Political Consultative Conference, is the movie planner and producer.
According to Wu Gang, deputy editor-in-chief of Chinese Radio Network and visiting scholar at Harvard University, the historical and cultural value of this movie can be summarized as "combining multiple elements of history including personal history, family history, history of the Chinese people's spiritual belief, culture and regional history, history of the party, military history, history of nationality, history of national unity, the history of world war and peace, and the history of human destiny".
Wang Jie, a professor at Party School of the CPC Central Committee, points out that the movie not only records the history of Long March, but also reminds us that we should not forget its spirit, which motivated us to fight through difficulties to push forward.