'Moana' seizes box office for second weekend in North America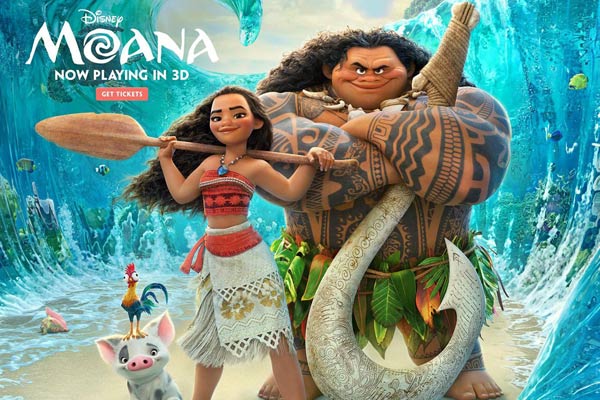 A still of the movie "Moana" [Photo/Xinhua]
"Moana" sold an estimated 28.4 million U.S. dollars this weekend in North America, dropping 50 percent compared with the three-day revenue last weekend.
Internationally, "Moana" grossed 32 million dollars from 30 markets as its global revenue at 57.5 million dollars for a worldwide haul topping 177 million dollars. The film's top international market so far is China where it dipped 55 percent this weekend for an estimated gross over 21 million dollars.
Warner Bros'"Fantastic Beasts And Where To Find Them" was at second place with 18.4 million dollars in sales this weekend, dropping 59 percent. In three weeks, it has brought in 183.5 million dollars in the U.S. and Canada in ticket sales.
The overseas total of "Fantastic Beasts And Where To Find Them" now goes to 424.4 million dollars, for a worldwide gross topping 607 million dollars making it the tenth largest worldwide release of 2016 so far.
Third place was held down by "Arrival," with 7.3 million dollars in receipts this weekend, dropping 36 percent, and it has grossed 73 million dollars in three weeks of exhibition.
The Christmas wave of new films began to roll out this weekend in limited release, with "Jackie" opening on just five screens nationwide and taking in 275,000 dollars and "Lion" grossing 120,234 dollars in seven theaters.
"Manchester By The Sea" received 2.7 million dollars this weekend on just 156 screens, "Nocturnal Animals" dealt 686,095 dollars in admissions on 127 screens, and "Miss Sloane," in its second week of limited release, sold 123,036 dollars in tickets at four theaters.
Rounding out the 10 most-popular movies this week were "Allied" (7 million dollars), "Doctor Strange" (6.5 million), "Trolls" (4.6 million), "Hacksaw Ridge" (3.4 million), "Bad Santa 2" (3.3 million), "Incarnate" (2.7 million) and "Almost Christmas" (2.5 million).