Beijing-born Japanese writer's picture book populates in China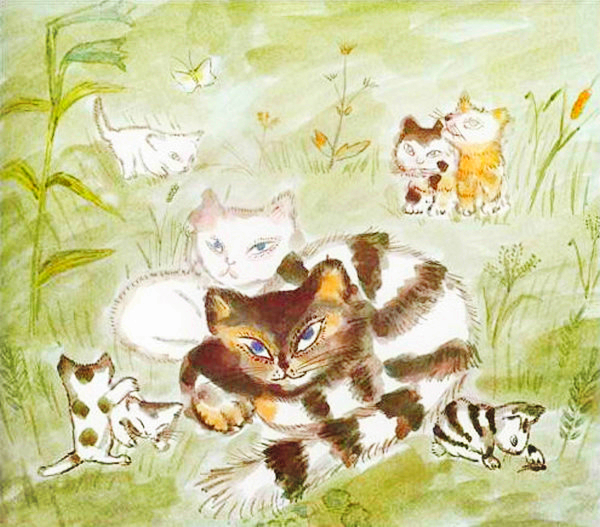 The Cat Who Lived a Million Times. [Photo/amazon.cn]
Cats, due to their mysterious lives and charming feline character, have always been popular pets. It is said that a cat may have nine lives, yet have you ever heard of a cat that lived a million times?
Japanese writer Yoko Sano created such a cat in her book The Cat Who Lived a Million Times, which was introduced to China in 2004.
The book has now been sold more than a million times in China.
A meeting was held, to promote the writer's books, in Beijing on November 11. Writers and Sano's faithful readers shared their understanding of the book.
Few people actually know Sano was born in Beijing in 1938 and moved to Dalian later. She returned to Japan at the age of 7.
Having died in Tokyo in 2010, Sano came to China in 2007, and said Beijing was her hometown and that she was a Beijing person.
"Her primary life was in China. And the first cat she saw is a Chinese one in a small courtyard where she lived. The cat in Sano's early memory and her affection toward the animal were also born in China," said Tang Yaming, senior editor, translator who has been a friend of the writer for more than twenty years.
The picture book illustrated a cat that has one million masters in its one million lives, including an atrocious King, an old woman, a little girl and a brave sailor.
Each master weeps for its passing away, yet the arrogant cat never sheds a drop of tear for them. The animal doesn't care about life and death nor love and affection. Until it meets a white cat, the cat becomes its first and last love.
"I should have read this book earlier. It is a big regret that I found it until I was 30 years old," a reader named Hu Yan said on Amazon.
The book earned an average 4.4 stars out of 5 on Amazon.cn and also a high score of 8.9 points out of 10 on Douban, a Chinese popular review site.
"The cat in the book has a very special life journey, and it really died after truly falling in love. Sano pictured a very interesting character for readers," said Gao Hongbo, deputy chairman of the China Writers Association.
According to Bai Bing, chief editor of the Jieli Publishing House, the book gave a boost to the development of picture books in China as a classic that breaks the boundaries between the world of adults and that of children.
"I was very young when my mother worked on this book and can't remember clearly about the way she created the cat. And among all her illustrations, I like this book best," said the writer's son.