Forum explores culture, tech fusion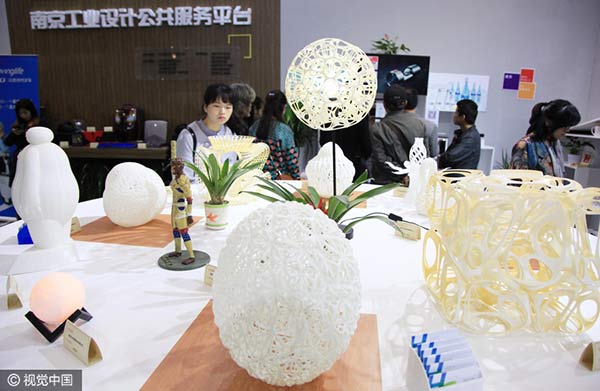 Visitors enjoy 3D printing products during the eighth Cultural and Creative Industry Fair in Nanjing, Jiangsu province, Oct 28, 2016. [Phoot/VCG]
A forum was held at the Nanjing International Exhibition Center on Friday to explore the fusion of culture with science and technology, to boost China's cultural industry.
The forum was a highlight during the eighth Cultural and Creative Industry Fair in Nanjing, which lasted for three days and concluded on Sunday.
Jiang Yuejian, deputy head of Jiangsu Provincial Department of Science and Technology, said during the opening speech: "Art can fly with wings of technology, and technology can fly higher with wings of culture. Technology advance has become a strong impetus driving culture prosperity".
The rapid growth of internet technology has highly boosted the cultural industry, including the copyright industry, while it also brings challenges to the orderly development of the cultural industry, Duan Yuping, a deputy head from National Copyright Administration of China, said at the forum.
"Up to June of 2016, the number of netizens has increased to 710 million, with mobile phone internet users reaching 656 million in China", Duan said. "Among the top 10 internet applications, the netnews applications occupy 82%, network video 70.8%, network music 70.8%, online game 55.1%, net literature 43.3%, which are all cultural industry-related."
China has introduced a series of measures to regulate the internet to better develop the cultural industry. In a special move to crack down on online piracy, China's copyright administrative departments have investigated more than 5,000 cases, closed nearly 3,000 websites, collected penalties of 15 million yuan ($2.2 million), and handed down criminal sanctions in 450 cases, according to Duan.