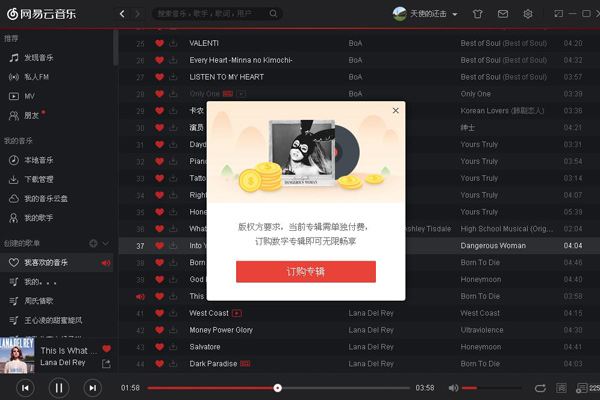 Chinese music lovers need to pay 20 yuan before listening to American pop singer Ariana Grande's latest album "Dangerous Woman". [Photo provided to chinadaily.com.cn]
It goes without saying that the entire music industry in China has been going downhill since entering the 21st century, under the attack of free online music and music live shows.
With declining album sales, less exposure to the public and diversified entertainment events, an increasing number of musicians have been forced towards another industry.
Furthermore, many music superstars have slowed the frequency of releasing albums. Instead, they're spending more time filming commercial advertisements and holding music concerts to maintain popularity.
However, as China introduces tougher measures to protect music copyright and more Chinese music-lovers are willing to pay money to download the latest pop songs, the Chinese music industry, in the era of digital music, seems to be gaining momentum again.
Characterized by three key words, "Mission, Prospect and New Starting Point", the 6th Forum on Music Copyright Protection and Music Industry Development was held on April 26 in Beijing.
"On the whole, China's online music market has been gradually rationalized. Millions of illegal songs have already been moved away from major music platforms since China's Administration of Press Publication, Radio, Film and Television published the Several Proposals on the Vigorously Development of Music Industry in December last year. However, in comparison with the booming movie market, domestic music market leaves much room for improvement," said Wang Yefei, deputy director-general of the Beijing Municipal Bureau of Copyright.
He Jing, director of the Beijing-based Meimiao Yueting Culture and Media Co. Ltd, said the Chinese music market had undergone fundamental changes in recent years. At present, song quality was not the sole criterion for judging music's popularity. However, fans had exerted a huge impact on the success of an album.
"Post-90 generation has constituted the major force in buying digital music or joining online music clubs. It is such a common thing for the young people to spend a little money in supporting their beloved singers,"she added.
For instance, Jay Chou, the King of Pop in China, released his 14th album "Bedtime Stories" on June 24, breaking a record by selling more than one million digital music versions within 36 hours. Let's make a calculation: one digital album costs 20 yuan ($2.99) and the total sales exceed more than 20 million yuan.
What's more is in order to promote digital selling, many music platforms, in cooperation with music companies, offer benefits packages to fans - a case in point is Alibaba Music.
As the exclusive publisher on the Chinese mainland, Alibaba Music has taken advantage of pre-ordering methods to promote Taiwanese singer Hebe Tien's latest album "Day by Day", to be released on July 13. Fans cannot only listen to new songs ahead of others, but also have the opportunity to get an electric fan card, watch a live music show, or take a photo with their idol if the purchasing quantity is big enough.
However, many people show different views towards commercial behavior. Some people think it is not rare to see fans doing crazy things for their idols to express loyalty, while others think it is a trick of music platforms to earn as much money as possible.
China registered 449 million mobile music users at the end of the first quarter this year, with an expected value of 962 million yuan.
According to an insider, Chinese digital music is in its initial stage compared to those in western countries. A music management system, ranging from music production and copyright protection to distribution and end-users' experiences, should be established as soon as possible.
In the future, more attention needs to be given to how the industry can carry out a win-win strategy, both for consumers and the music platforms.