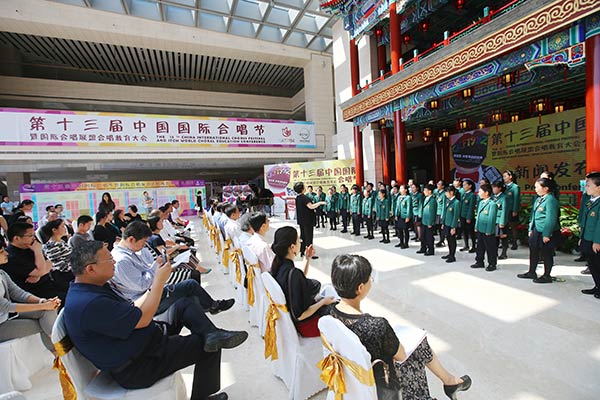 The press conference for the 13th China International Chorus Festival was held at the Beijing Tianqiao Performing Arts Center in Beijing, on June 15, 2016. [Photo provided to Chinaculture.org]
The 13th China International Chorus Festival will be held from July 26 to August 1 in Beijing, with 238 choruses from 44 countries, as regions from around the world gather at the event.
The festival will stage 204 activities, including a chorus education conference, masters' workshop, special themed concerts and other exchange activities, according to Zhang Yu, the general manager of the China Arts and Entertainment Group, a host of the event.
This year's event will replace the previous sole team competition with a new model, where music masters will comment and coach the participating choruses on the spot.
Master conductors Yan Liangfang and Yang Hongnian, who are 93 and 82 years old respectively, were awarded as lifetime consultants of the chorus festival, during a press conference held on Wednesday in Beijing.
To commemorate the 15th anniversary since the founding of the Shanghai Cooperation Organization, the chorus festival will also set up a special section of chorus summer camps, which will hold activities among the SCO member countries.
The festival this year also joins hands with the China Children and Teenagers' Fund for the first time, to hold a special charity concert on July 28. Three Chinese choirs, funded by the society, will perform together with four international classic choirs.
The festival is hosted by the Bureau For External Cultural Relations of the Ministry of Culture, International Federation for Choral Music, China Arts and Entertainment Group, Beijing Municipal Commission for Education, China Chorus Association, and Xicheng District People's Government of Beijing Municipality.
Founded in 1992, the International Chorus Festival is a globally-influential, national-level chorus festival, and has been a major platform for art troupes and artisans to show their musical talents, and communicate with each other.