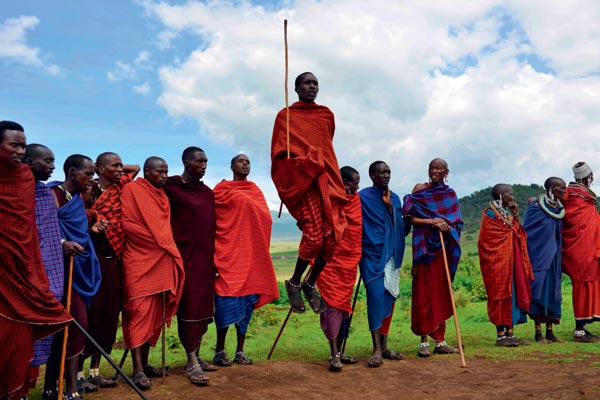 A Chinese park ranger in Tanzania shares the drama of the animal kingdom in his new book. Photo provided to China Daily.
Camping along the habitat of crocodiles, making friends with lions, and hunting with the aboriginal African Hadzabe people ... . To nature lovers, Chen Jianxing has the most ideal job in the world-working at the Tanzania National Parks administration, promoting and protecting the African country's wildlife resources. It all started from a childhood dream, as Chen describes in his new book Into Tanzania (Dao Tan Sang).
When Chen was a little boy, he wished that one day he could go to Tanzania and see "real" lions. His dream came true in 2006, when the 36-year-old Chinese man from Wuhan in Central China's Hubei province first worked at the Chinese embassy in Tanzania. Three years later, in order to get closer to animals, Chen joined the Tanzania National Parks.
Although Chen had been following documentaries about Tanzania since he was a boy and was quite familiar with the country, everything seemed fresh and new when he finally stepped onto East Africa.
Chen started to record every exciting encounter with animals and local people, and just as the spell of Africa's wildlife has weaved its magic over him all the years, the beauty of Tanzania has pushed him to spread the dream of Africa through his book.
His writings combine his knowledge of the wild world, travel tips and his personal travelogues about different national parks in Tanzania, such as observing prides of lions in Serengeti and ascending to the top of the African continent-Mount Kilimanjaro-with some 500 photographs of scenery and wild animals.
In the book, we learn that for travelers the most dangerous animal on the African savanna is not the lion, but the elephant.
"Every time I drive to Ruaha National Park, I will always find myself chased by wild elephants," Chen writes. "The illegal poaching there has stirred elephants' hatred toward humans."