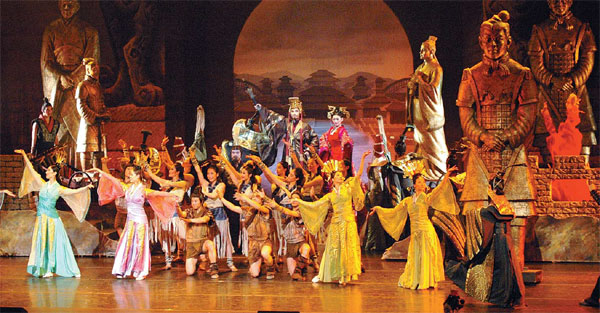 Photo provided to China Daily
Stage show set to dispel China cliches and boost nation's reputation around the world, Yang Cheng and Zhang Shiyi report.
Cross-culture commentators share a view that Westerners find the 5,000-year-old Chinese culture hard to understand and that misunderstandings have escalated year by year.
No stage performances have been as well received in Beijing as the Moulin rouge or Mama Mia and the hits have lured tourists to visit the places where the shows were set. But to date, no popular blockbuster about Chinese history has ever been attempted in the entertainment and performance sector.
A Western-packaged Chinese history-inspired stage play is set change this and dispel commentators' clichs.
Terracotta Warriors 3D, produced by Law Brothers Chinese Performing Arts International, is due to hit Beijing in early September. The producers believe that this could be the first time in history that a true 3D theatrical show is mounted.
The show will use the world's first 3D LED screen as a background, cutting-edge 3D technology and savvy knowledge of Western tastes to try and fairly represent both cultures.
"Everything we put on the stage is authentically Chinese - it has a kind of special packaging to interpret the history and culture that makes it more appealing for international audiences," said Dennis Law, president and CEO of Sight, Sound & Action and Law Brothers Chinese Performing Arts International. Law added, "I do not believe anyone has ever combined hi-definition cinema with an action-packed live-action theater."
Commentators agreed the company was in a good position to fill the void for a Chinese culture-inspired show for foreign audiences and those with a thirst for Chinese culture.
The Law Brothers has its own content, troupe, theatre and brings its own unique experience and profile.