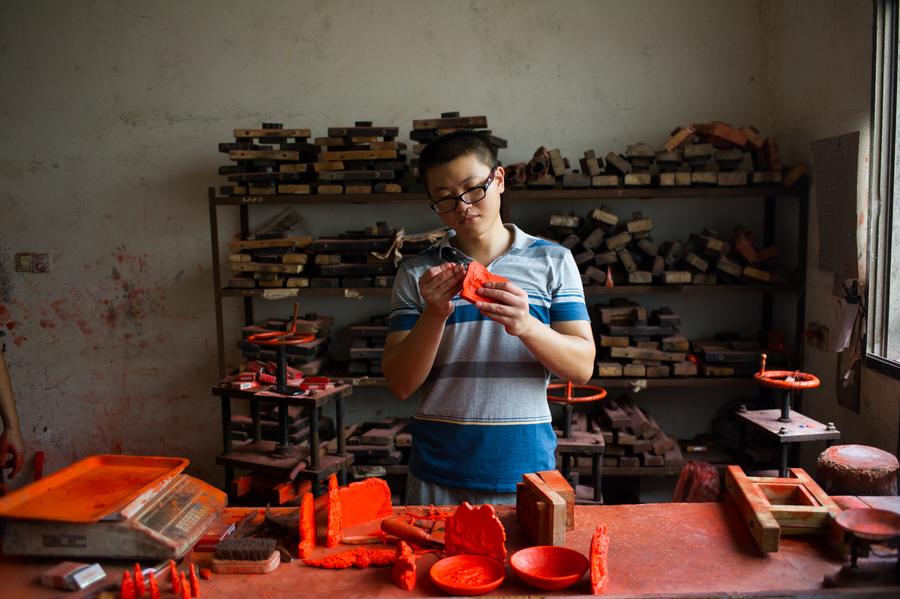 Xiang Song embellishes the rough edge of compressed ink in Anhui province, August 27, 2014. [Photo/Xinhua]
Xiang Song, an inheritor of the intangible cultural heritage of Huizhou ink, was born in 1990 in Huangshan of Anhui province. After he graduated from college in 2013, he went back to his hometown and followed his father to learn the technique of making Huizhou ink. In his first year working in the field, he has won the silver award in China's Baihua Award for arts and crafts.
According to Xiang Song, the workmanship of Huihzou ink is very complicated. It usually involves multiple processes, and each process carries elements of cultural inheritance. "Now many intangible cultural heritages in China face the challenge of lacking of successors, and we have to carry forward our ancestors' traditions, so that's what motivates me to learn Huizhou ink artistry", Xiang said.