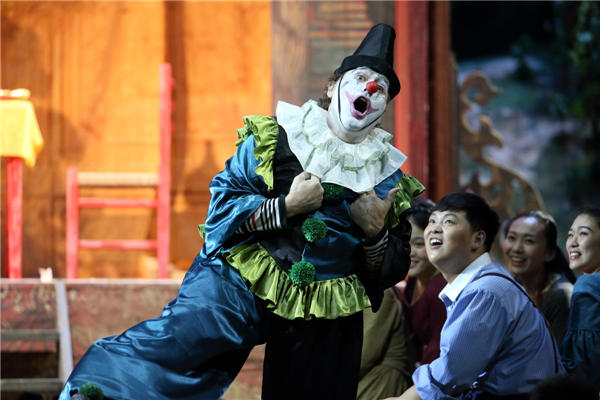 Gustavo Porta plays the role of Canio the clown in Pagliacci, which was staged last week at Beijing's National Center for the Performing Arts. Photos provided to China Daily
Packed with powerful performances, the plots of Cav/Pag, as the double bill is popularly called, uncannily mirror each other. Raymond Zhou reports.
The National Center for the Performing Arts in Beijing, where getting a new production onstage is famously tough, recently hired Giancarlo del Monaco to direct the twin operas Cavalleria Rusticana and Pagliacci and infuse them with Italianate jealousy, betrayal and bloodshed.
Their staging last week was richly romantic, at least to the modernist, and therefore justifiably operatic for the emerging audiences of classical opera in China.
Del Monaco, who has been somewhat of a fixture at the giant egg-like NCPA, characteristically fills the stage with floor-to-ceiling mammoth sets, but this time, unlike in his Tosca or Otello, he eschewed technology-enabled mobility.
There was one set for each opera and it stayed the same through the course. His creative team guaranteed that period details were rich and authentic. But the unintended similarity of the jackets worn by male villagers with the Maoist suit, at least from a distance, didn't escape sharp viewers.
If only such stories of ardent passion were true of China then.