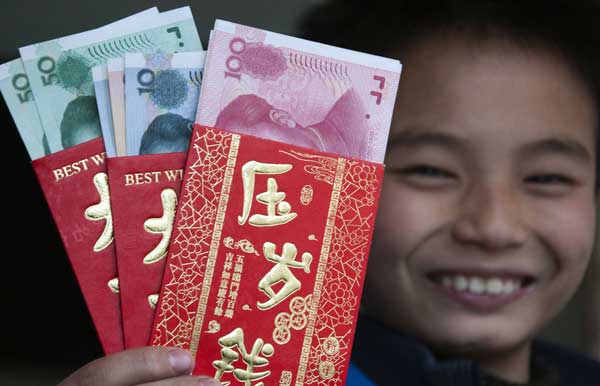 A boy shows the red envelopes he received during Spring Festival this year in Shaoyang, Hunan province. Lyu Jianshe / for China Daily
The tradition and true meaning behind the giving of red envelopes to children during Spring Festival is being lost as people stuff them with ridiculously large amounts of cash or use them as a networking tool to cultivate favors in return, experts warn.
The tradition of handing out red envelopes spans 2,000 years to the Eastern Han Dynasty (AD 25-220), aiming to protest children from a monster named Sui that brings misfortune.
It is normally given to children up to their 18th birthday or, in some cases, when they get their first job.
Chen Hewen, 50, owns a wedding company, and tried to dissuade friends and relatives from giving large sums of money to his 12-year-old daughter, who just started middle school.
Despite his efforts, the girl still managed to get more than 7,000 yuan ($1,150), double the amount of last year.
Her father kept his donation to 200 yuan, an amount he has stuck to for seven years.
"I think it's pointless to give my child that much money," he said.
"It's just a huge burden. I have to pay it back to them anyway, one way or another, but they have all sorts of excuses, like the donation has to rise every year, or my daughter just entered middle school. If I hadn't tried to dissuade them, she could have easily earned more than 10,000 yuan."
A Beijing News survey this month of 90 primary and middle school students found that the recipients got 438,000 yuan, an average of 4,867 yuan each.
The survey indicated that children whose parents worked in the government or business tended to get more money in the envelope and from more people.