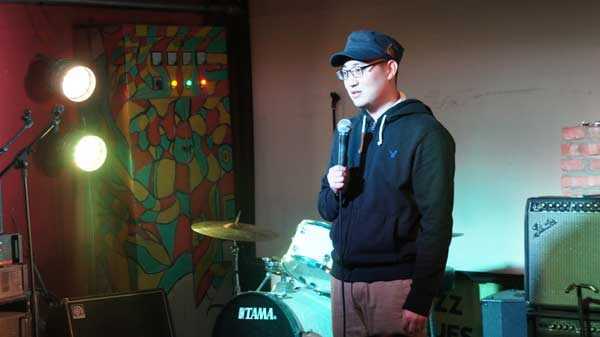 Tony Chou performs stand-up comedy at Beijing's Hot Cat Club. Belle Taylor/China Daily
It's a Saturday night at the Hot Cat club - ground zero for Chinese-language comedy. On Wednesday's English-language nights, the expatriate crowd clutches beers and chats loudly.
But tonight the bar is doing a brisk trade in cups of tea. One guy is drinking milk.
People are engaged in quiet conversation or are buried in their cellphones waiting for the show to start.
Tony Chou - one of Beijing's hottest young comics by night and TV reporter by day - is anxiously scanning the gathering crowd.
"Not that many people tonight," he says, glumly. "We had a nasty night last week. Big crowd."
The nasty night was a themed event where comedians were encouraged to talk about "nasty" topics.
It's a concept that might seem strange to comedy fans from the West, where stand-up is known as an edgy, taboo-breaking, exercise.
But in China many topics - such as sex and politics - remain sensitive.
"Very little stuff related to sex," Chou says of the content of Chinese comedy. "We do have (jokes about sex) but not that many compared with Western-style comedy."
He says politics are discussed within certain parameters.